The Canadian oil sands is contantly improving on all fronts
We want to hear from you! Leave a comment at the end of this article! If you liked this please tweet it, +1 it and share it on facebook!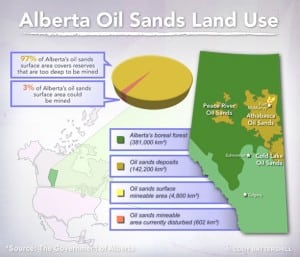 This article is aimed at correcting some of the mis-information out there.  There is a never ending stream of fiction that the oil sands is this environmental monster of never seen before proportions, and I am here to present another side of the argument. Energy literacy is the key missing ingredient in the debate and the facts below present a different view of oil sands development.
I present this following statement, if you read this and disagree or want to debate it then please sent me a tweet @ CodyinCalgary.
The Canadian oil sands is the worlds most monitored, most regulated, most environmentally conscious major oil reserve within the worlds top 10 reserve countries. No man made development or industry is perfect, yet the oil sands and Canadian energy industry is making amazing strides and is always in a state of perpetual improvement on all fronts.
Truth #1: The oil sands does have environmental side affects, as does every single thing human beings do on this planet, like living in a city for example. Industry is tirelessly working on technological improvements to lower its environmental impact and on improving its footprint. Great innovations have been made and with the billions of dollars being invested for environmental purposes more innovation is yet to come.
Truth #2: The oil sands industry measures its success on the "triple bottom line" that is people, the environment and financial metrics.
Truth #3: Oil sands industry constantly analyzes, records and tracks environmental performance as you will see in the video below.
Truth#4: Canada's oil sands accounts for 0.1% of world green house gas emissions.
Truth#5: The oilsands has reduced its green house gas emissions intensity per barrel by 26% in the last 20 years
Truth#6: Only 3% of the oil sands area can or ever will be mined. 97% of the total land area will never be mined.
Truth#7: In the last 40 years of oil sands development only 0.02% of the Canadian forest has been disturbed. All land disturbed must also be reclaimed back to a naturally vegetative state as defined by strict environmental regulations and laws in place from the Alberta government. This process takes decades and is extremely onerous to ensure the proper techniques and reclamation is done.
Truth#8: Oil sands operations recycle between 80-97% of the water used. Some oil sands companies even use no fresh water. The water used in operations is brackish and is unfit for human or agricultural use.
Truth#9: The oilsands is the worlds largest democratically controlled, investable oil reserve and is the largest reserve outside of opec member countries.
Oil sands environmental monitoring in action
Hungry for more information? Check out this awesome list of resources where you can learn more! We want to hear from you! Leave a comment at the end of this article! If you liked this please tweet it, +1 it and share it on facebook!
Sources: Environment Canada, CAPP, AB Gov