Alberta and Accommodating the Inbound
October 3, 2012
By Cody Battershill
Accommodating those inbound to Alberta - September 2012
Those who use the LRT system in Calgary have probably noticed how packed the C-Trains have been as of late, a direct result of a high influx of people moving to Alberta. The province hasn't seen this many inbound people since the last boom period, and if it keeps going the way it has been, there will be some substantial implications on Alberta's economy.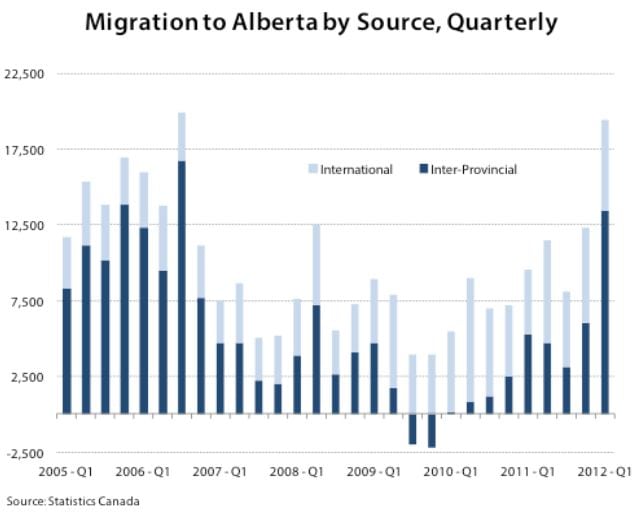 With Alberta as Canada's leading economy, it doesn't come as a big surprise to see job seekers moving to. What is surprising is the fact that it took as far as the first quarter of 2012 to see the numbers begin to rise substantially. Not only is Alberta's unemployment rate far below Canada's national average, wages are climbing steadily as well. The provinces average weekly wage is currently $156 above Ontario's!
While interprovincial migration has increased only recently, an increased rate of international migrants has been occurring ever since the last recession. Alberta gained around 6,000 persons in the first quarter from international migration, almost double the amount what was recorded for the province only 5 years ago.
A severe shortage of homes and social services were caused by the massive influx of migrants during the boom period. So far, the provinces infrastructure and available housing continues to show it is prepared for population growth.
Many companies in Alberta are relying on recruitment tactics outside of the province to fill much needed spots in both national and international settings. Combined with a noticeable prosperity gap in the favour of Alberta, expect to see more job seekers moving to the province in times to come. At some point it might put a strain on our accommodative ability, but for now everything is fine and dandy.
Be sure to check out our Calgary Alberta Western Canada Economics Summary for more Canadian economics. Thanks for stopping in!