Is Alberta's Economy Finally Showing Signs of Improvement?
There's good news when it comes to Albertan jobs in the month of April 2017. The number of employees in the province – which has been hit hard in recent years by low energy prices – saw a loss of only 300 jobs while the unemployment rate dropped half a point to 7.9 percent.

But a loss is a loss, right? If we look more thoroughly at recent data released by Statistics Canada, the loss is accounted for by a gain of 2,900 full-time jobs while there was a loss of 3,200 part time ones. This is a positive indicator as a full-time job can be better paying, allow a worker to earn more money and sometimes come with benefits like health or dental insurance.
May 2016 to April 2017
The job situation in the western Canadian province has begun to show gradual signs of improvement over the past 12 months. On a year-over-year basis, April saw a modest increase in employment of 0.8 percent over April of 2016.

Meanwhile, looking at specific industries, there's been a shift away from high-paying jobs like those in professional, scientific and technical occupations (5.0 percent lower) and construction (8.2 percent lower).

Surprisingly, current jobs in the resource sector – which is dominated by those in the energy industry – is 0.8 percent higher than it was in April of 2016. However, it's important to note that most job cuts from oil and gas companies were made before May 2016.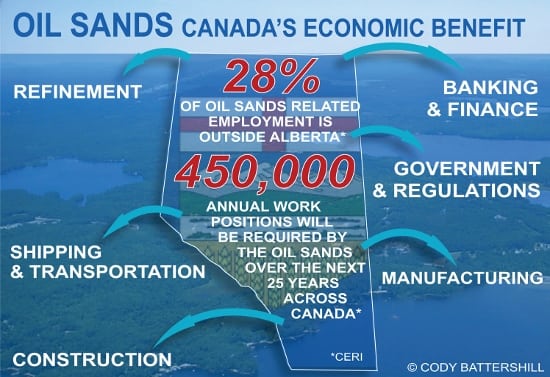 Sectors that have seen increases in employment are mostly in the services sector. Education saw an increase of 8.9 percent, while social assistance and health care saw a modest boost of 3.8 percent. Transportation and warehousing also saw an increase of 6.6 percent.

Such jobs typically pay much lower than those in construction, energy and professional occupations, which means that while total employment figures are up, the quality of job available to the average worker in Alberta has dwindled during the recession.
I Love Alberta
For more articles highlighting the ups and downs of economics in Alberta, be sure to check out our Calgary, Alberta, Western Canadian Economic Summary today.