Alberta Census Families Have the Highest Average Annual Incomes in all of Canada!
Alberta's two major cities, Calgary and Edmonton, are home to family households with the highest incomes in all of Canada!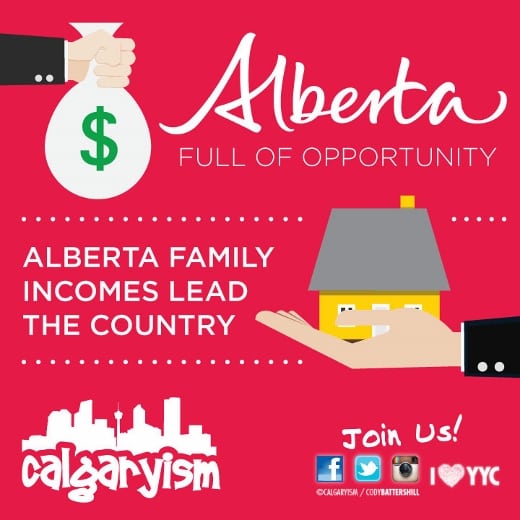 Recent information collected by Statistics Canada shows that Calgary leads all major Canadian cities in 2012 with an average annual income of $98,300. A few thousand dollars behind the energy-hub is Edmonton at $96,030 and in third Ottawa-Gatineau at $94,230.
To put things in perspective, the average annual income for households across Canada was $74,540.
Provincial Rankings
For census families that average is $81,980 – see the 2012 rankings for census families below:
Northwest Territories – $130,990
Yukon – $108,040
Alberta – $103,470
Nunavut – $91,210
Saskatchewan – $90,450
Ontario – $82,760
Newfoundland and Labrador – $79,490
Manitba – $79,010
British Columbia – $77,970
Nova Scotia – $76,580
Quebec -$76,420
Prince Edward Island – $76,290
New Brunswick – $73,010
In neighbouring British Columbia some of the lowest rankings are found with Vancouver at $71,140 and Abbotsford-Mission at $66,550.
On the other end of things, Alberta is also home to the area with the highest average income per household in all of Canada. Wood Buffalo households take in on average $177,510 annually!
Not Only High…
Apart from the sheer dollar amount, Calgary and Edmonton also place first and third for family income growth rates with a respective 3.7 percent and 3.0 percent.
St. John's, Newfoundland came in second between the two Albertan cities at 3.4 percent. Across the nation, income growth averaged at 1.7 percent.
Why Alberta?
Canada's energy rich province has had a consistently strong economy supporting employment growth and rising income levels for many years.
Alberta Government report that for every one dollar invested into its oil sands, about eight are generated in other parts of the economy through the creation of secondary jobs and what not.
Furthermore, Alberta has the highest amount of people over the age of 15 involved in the workforce one way or another which means that there are more than just one or two paycheques coming into these households.
Hopefully the future of Alberta will be as bright as its past.
More Economics
Did you enjoy this tidbit of information? If so, then you'll absolutely love our Canadian Economics Summary complete with several economic articles relating to Calgary, Alberta and Canada since 2012!
Join Us
We invite you to join us at Calgaryism on Facebook, Instagram and Twitter for more great information on the beautiful city, province and country we live in! We hope to see you there!