Fewer Albertan Families are Considered to be "Low Income"
So far this year has turned out to be a slow one for Alberta's economy.
Low oil prices have brought considerable change in Canada's energy province in 2015, including many job and expenditure cuts by major players in the oil sands.
Nonetheless, Alberta`s economy has performed exceptionally well over the past 15 years during which it has consistently lead Canada in key figures like economic growth and prosperity.
That past activity has put many Albertans in a much better position when it comes to wages and wealth in the present day.
What Statistics Canada Says
According to Statistics Canada, Albertan families have the lowest probability of being low income or having no wealth whatsoever in the nation.
Shown in a report released early June, the organization presents data for the distribution of wealth between Canadian families for the years of 1999 and 2012.
In 2012, just 2.1 percent of families in Alberta were categorized as "low income or have no assets". In other words, families with a net worth of below or equal to zero or who have a net family income lower than 50 percent of the average income level.
To put things in perspective, here are the percentages of some other Canadian provinces:

British Columbia – 4.5 percent

Manitoba & Saskatchewan – 2.9 percent
Alberta also saw the biggest drop in "low income families" between 1999 and 2012 with a decrease of 2.7 percent. Quebec was the only other province where this percentage dropped between the given time frame, while Ontario and British Columbia saw a gain.
I Love Alberta
Even now Alberta's economic climate isn't that bad at all. After a year into the dip of oil prices, the provinces economy has maintained good income levels that continue to increase while experiencing only slight losses in employment growth.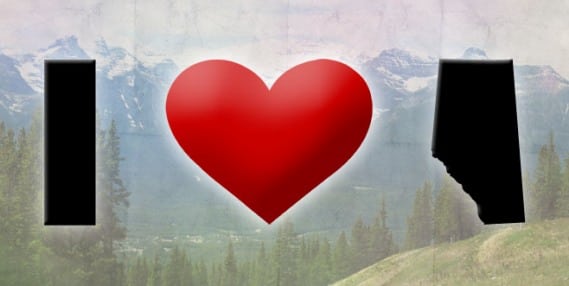 If the past is any indicator of what's to come for the western province, we all should look towards the future with excitement because the sky truly is the limit here in Alberta!
More Economics
Looking for more interesting articles related to Calgary, Alberta and Western Canadian economics? See our Canadian Economic Articles Summary today!