The United States is our Top Export Buyer – of Course!
Our friendly neighbours down south are by far the best customer that Alberta has when it comes to trade exports.
The Americans bought a whopping $80.5 billion worth of goods from our province in 2015 representing a good chunk of all of Alberta's international exports – at 87 percent.
As far as national exports go, Alberta's sales to the United States accounted for approximately 20 percent of Canada's total.
Ontario was the only province to sell more exports to our neighbours at 48 percent, or $194 billion worth of the national total.
Canada's Main Export is…
For those of you who are familiar with Canada's economy, it may come as no surprise that oil and gas is our main export to the United States.
In 2015 we sold just short of $63 billion worth, down from $91 billion in 2014 (although oil prices were much higher then) which accounted for 78 percent of all exports sold south of the border in 2015.
In stark contrast we only managed to export $206 million worth of petroleum to other world countries (0.03 percent of our total).
If only Canada could build the infrastructure it needs to get our natural resource to markets around the world; imagine how much more prosperous our nation would be!
Alberta's Exports…
Apart from oil and gas, Alberta's next largest export to the USA is agriculture products (at 4.8 percent) followed by plastic products (at 4.7 percent).
Illinois was the destination for a third of our total provincial exports ($26 billion)

It makes sense for Illinois to rank first as it is a major transportation hub for petroleum heading south

Washington was a distant second best customer for total provincial exports ($8 billion)

The state of California bought approximately $857 million of food last year

Texas bought $724 million of plastic last year
Oil and gas was the most purchased resource from Alberta amongst our provinces top 10 customers south of the border: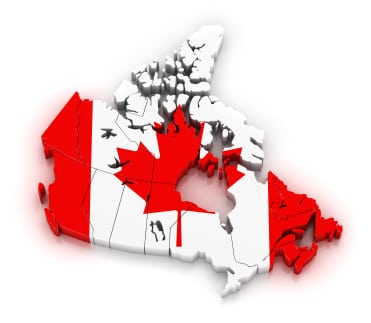 Canada's Top 10 Main Exports (2015)
#1 – Oil – US$77.8 billion (19% of total exports)

#2 – Vehicles – $60 billion (14.7%)

#3 – Engines, machines, pumps – $31.1 billion (7.6%)

#4 – Gems and precious metals – $19 billion (4.7%)

#5 – Electronic equipment – $13.2 billion (3.2%)

#6 – Plastics – $12.5 billion – (3.1%)

#7 – Aircraft, spacecraft – $12.3 billion (3%)

#8 – Wood – $11.8 billion (2.9%)

#9 – Aluminum – $8.2 billion (2%)

#10 – Paper – $7.7 billion (1.9%)

*Sourced from World's Top Exports (WTEx)
More Economic Articles
We keep up-to-date on some of the latest economics released by various financial and media institutions from around Canada. See the rest of our Calgary, Alberta and Western Canadian Economic Articles today!