Calgary – 5th Highest Quality of Life 2012
December 20, 2012
By Cody Battershill
Calgary 5th Highest Quality of Life 2012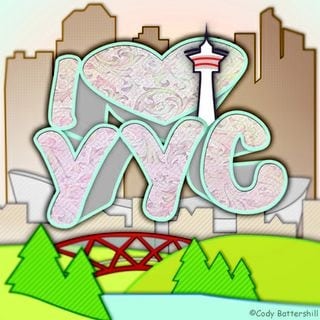 Most of us here in Alberta know that we are pretty fortunate to live where we do. But how many of us truly know how amazing Alberta really is?
Sometimes it takes an outside source to recognize just how good it is for us before we can do so ourselves. This outside source just published their results early in December of 2012.
An organization called Numbeo has published their findings resulting from their database, the largest of its kind in the world that incorporates user-contributed data from various countries and cities to create an index of quality of life.
In 2012 Calgary ranked 5th in the world and our northern neighbour Edmonton 3rd.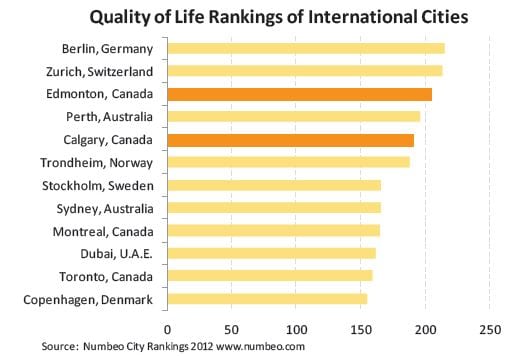 Quality of Life Top 12 International Cities
Berlin, Germany
Zurich, Switzerland
Edmonton, Canada
Perth, Australia
Calgary, Canada
Trondheim, Norway
Stockholm, Sweden
Sydney, Australia
Montreal, Canada
Dubai, U.A.E
Toronto, Canada
Copenhagen, Denmark
Numbeo's rankings are calculated from several statistical measurements...
Traffic commuting time
Quality of health care
Purchasing price index
Pollution
Home prices
Inflation
Crime rates
Calgary and Edmonton's high ranking in Numbeo's Quality of Life Index might surprise those living in Alberta who sometimes can't see how wonderful it really is to live in either of these two cities. It was probably news enough for Edmontonians that their city actually ranked higher than their southern NHL rival.
Edmonton beat Calgary in terms of housing prices and traffic with less of both but Calgary still reigns supreme as the safer of the two.
Good News!
Great news for Albertan companies! Having Alberta's two major cities rank so high on the QoL means our province will be able to attract more foreign workers from the international community to help those already inbound from within Canada fill those much needed job positions in our economy!