Calgary Awards, Recognition and Rankings Infographics
March 31, 2012
By Cody Battershill
Calgary Awards, Recognition and Ranking Infographics
Calgary is...
#1 for visitor spending growth in Canada - Tourism Calgary 2013

#1 best places to raise kids in Canada - MoneySense 2013

#1 top Canadian cities in which to invest - Real Estate Investment Network 2012

#1 in global prosperity - Global Annual Prosperity Index 2012

#1 return of investment in North America (of 32 cities) - Investment Property Databank 2012

#1 retail sales growth in Canada - Statistics Canada 2013
It is easy to congratulate yourself for being awesome, but what do you really have to compare yourself to?  I personally tell everybody with ears how awesome Calgary is and according to several research institutions and media groups, it's nice to know that I am not the only one who thinks so.
If you live here you know, but even then to put things into a global perspective is not always easy. Awards, recognition and rankings like those above and below help us put things into perspective. Another perspective inducing fact is that there are 7 billion people on this planet and we live in a city of 1.1 million, of which is recognized as one of the best places to live in the world!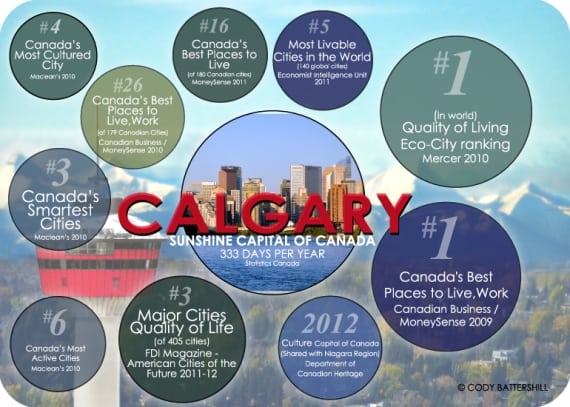 Calgary is also...
#1 - the sunshine capital of Canada with 333 days of sunshine per year - Statistics Canada

#1 in the world for quality of living, eco-city ranking - Mercer 2010

#1 Canada's best places to live, work - Canadian Business/Money Sense 2009

#1 culture capital of Canada ( Shared with Niagra region) Department of Canadian Heritage

#3 major cities quality of life ( out of 405 cities) - FDI Magazine

#3 Canada's smartest cities - Macleans 2010

#4 Canada's most cultured city Macleans 2010

#5 highest quality of life in the World Numbeo 2012

#6 Canada's most active cities - Macleans 2010

Join Us @ Calgaryism
Find out more about our wonderful city today and check out these 15 Reasons to Relocate and 25 Reasons to Love Calgary!
Until next time, be sure to join us at Calgaryism on Facebook, Instagram and Twitter for photos, activities, events and more to do with one of the best places to live on Earth; the City of Calgary!