Calgary Condo Guide to Condo Plans
September 6, 2011
By Cody Battershill
What is a condo plan and why should you care?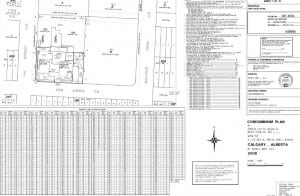 A Condominium Plan is a drawing prepared by a surveyor which shows, among other things:
The common area
The area of each Unit
The boundaries of each individual Unit
The boundaries of the Condominium plan
The Unit Factor for each Unit and, sometimes the basis for determining the unit factor
Areas of common property were an owner is permitted to exercise exclusive possession
The Condominium Plan number is a 7 digit number. The first 2 digits represent the year the plan was registered (which is the same time that the corporation is created) and the 3rd digit represents which land registry district the plan was registered in."1" is Alberta South and "2" is Alberta North- Innisfail is the dividing line between North and South.
Calgary Condo Guide to Condo Plans
There are several reasons the condominium plan is important to you when buying or selling a condo in Calgary. For starters you can verify the registered size of your unit and how it was determined. You can also see the common areas and what is exclusive use common property. In addition if the parking or storage lockers are leased or titled they too will be visible on the condo plan for you to reference.
It is important to know what you are buying or selling in the Calgary Condo Market and it is just as important to work with a Calgary Condo Expert REALTOR®. Send me a quick message below, I would love to chat with you about your goals!

[gravityform id=10 name=Contacta Calgary Condo Expert]