Calgary Condo Guide to The Hallway
June 20, 2011
By Cody Battershill
The Calgary Condominium Hallway Guide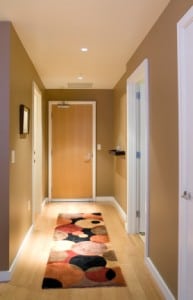 An often overlooked detail of buying a condominium in an apartment style building is the interior location of the unit. Not just the exposure and floor height but the location in the building and the distance from the elevator to your front door.
Imagine you drive into your underground parking with some groceries, you park and walk to the elevator. Now you get up to your floor and your front door could be either a few short steps or the walk could feel like a mile, all depending on the type of building and your units location.  Plus the distance from your parking stall to the elevator could also be a short or long walk.
A Few Tips for a Happy Calgary Condominium Purchase:
Never buy a condo without physically viewing the parking stall location
Pretend you have some groceries, park and walk to your front door
Really think about the distance and the walk several times a day, every day
If it is a longer walk consider getting a fold up cart to help with your bigger shopping days
You can also ask the condo board to buy small carts to leave by the elevators
So, when buying a condo in Calgary, consider the physical address and location for your lifestyle but also consider the floor height, exposure, view and the distance from the elevator to your front door!
For more Calgary condo tips send me a message below, I am a Certified Condo Specialist and a Calgary condo expert. I would love to help you make the best choice to accomplish your real estate goals!
[gravityform id=1 name=HowCan I Help?]