Richmond Park Knob Hill Calgary Community and Home Search
February 7, 2012
By Cody Battershill
Richmond Park Knob Hill Calgary Inner City Community and Home Search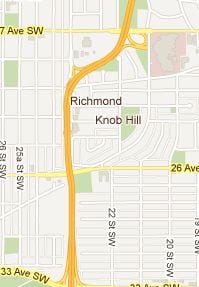 Richmond Park Knob Hill is a well located inner city SW community in the city of Calgary with an establishment dating back to 1950. Over time developers and home owners alike have moved to take advantage of the great location by developing new inner city infills for continued use and living for years to come. Richmond Park Knob Hill has become an inner city community of choice for many urban professionals looking to live close to downtown in new and stylish infill homes.
Residents have great access to main roads such as Crowchild Trail South, 33rd Avenue SW and 17th Avenue SW. Centrally located communities such as Richmond and Knob Hill have amenities, services, recreation and leisure tools in affluence around and within the area, allowing for a convenient and comfortable living experience amenity wise.
Richmond Park Knob Hill Amenities and Services
17th Avenue SW and Crowchild Trail are two main routes with plethora's of businesses that are close and easily accessible for Richmond Park Knob Hill residents. Furthermore 33rd Avenue SW borders Richmond and Knob Hill that also has its own multitude of businesses.
Chinook Mall is just minutes south and east of the community after merging onto Glenmore Trail East off of Crowchild Trail South. McLeod Trail is another main route covered with every service necessary from dining and clinics to auto-repair and shopping.
Richmond and Knob Hill features a recently finished community centre that provides a variety of different activities for residents. An outdoor skating rink complements a well strewn network of walking and biking paths that interconnect the community well within as well as with its bordering neighbourhoods.
Richmond Park Knob Hill Schools
Richmond Elementary is located within the community as well as Chinook College, a post secondary faculty that provides upgrading and other career services for youth and adults.

Richmond Elementary provides for kindergartens to grade six.

Two different options including Mount Royal Junior High and A.E. Cross Junior High are available for grades seven to nine.

Two different options are available for senior high students between either Western Canada Senior High or Central Memorial Senior High.

There are a few privatized schools in the area as well such as the Calgary Arts Academy.

Educational opportunities for students in Richmond and Knob Hill are in abundance because of their proximity to educational centers for all levels of education including Mount Royal University which is just south on Crowchild Trail less than a kilometre away! University of Calgary can be easily accessed via one bus to downtown and one train ride on the north LRT.
Richmond Park Knob Hill Demographics
When making such an important decision such as the purchase of a new Calgary infill or inner city bungalow it is important to know some characteristics of the prospect neighbourhood. Here are some key statistics for Richmond Park and Knob Hill (City of Calgary, Civic Census 2009).

Ages 24 and below – 23.3%
Ages 25 to 54 – 58.8%
Ages 55 and up – 17.9%
Average household income - $56,811 (Statistics Canada, 2006 Census)
Percentage of population with a High School Diploma or higher – 84.0%
Ratio of residents who own their property – 60.8%
Ratio of residents who rent their property – 39.0%
Public Transportation
Richmond and Knob Hill have bus routes that service all of their borders, also traveling within the community along main roads where stops are allocated. LRT service will have to be reached by a public bus route first but not to worry the LRT downtown terminal is easily reached by one bus from the community borders.
Routes servicing Richmond and Knob Hill area are Richmond Road, Sarcee Road, Lakeview, Lakeview Express, Mount Royal University North Express, Mount Royal, Circle Routes, Killarney and 26th Avenue, Calgary South, South Calgary, Glenbrook Express and Signal Hill Express. The connecting points between all of these routes destinations give an expansive selection of how to commute to your destination when using Calgary Transit.
Richmond Park Knob Hill Community Boundaries Are:
Northern Border – 17th Avenue SW from 24a Street SW to 19th Street SW

Eastern Border – 19th Street SW, 22nd Street SW from 17th Avenue SW to 33rd Ave SW

Southern Border – 33rd Avenue SW from 22nd Street SW to 26th Street SW

Western Border – 26th Street SW & 24a Street SW from 33rd Avenue SW to 17th Ave SW
Questions about Calgary Inner City Infills?

Contact me directly at 403-370-4180 today for answers or to discuss your real estate goals in Calgary's inner city. I am looking forward to your call!
More Calgary Inner City Resources
Search Richmond Park Knob Hill Calgary Home Listings
[mrp account_id=21736 listing_def=search-332654 context=recip init_attr=lvs~default,ipp~10]