Shaganappi Calgary Inner City Community and Home Search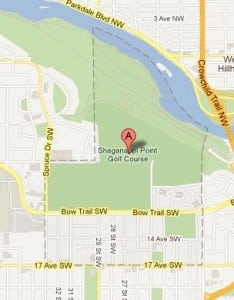 Shaganappi is a southwest Calgary inner city neighbourhood found a few minutes west of the downtown core. Shaganappi consists of Shaganappi Point Golf Course, a small residential section between Bow Trail and 17th Avenue and another between the Bow River and Bow Trail SW.
Established in 1949, Shaganappi is seeing the construction many new infill developments in the area replacing some of its older homes.
The area has beautiful lush, mature vegetation inherent to the fact that Shaganappi was the first community in Calgary that had vegetation planted and maintained by a licensed horticulturalist.
Shaganappi Amenities and Services
Location is always a huge factor for inner city infill buyers. Close proximity to 17th Avenue and Bow Trail offer residents quick and easy access to a wide range of amenities and services. Travelling east on Bow Trail leads directly into downtown turning into 9th Avenue.
Westbrook Mall and Killarney Rec. Centre border the west side of the community, two more great resources for amenities.
Shaganappi now has full LRT service with the opening of the new West Calgary LRT line! Leave the car at home, jump on the train and head downtown for the first time ever from the nearest SW Bow Trail LRT terminal!
Shaganappi Schools
Shaganappi is home to two schools. The first is Alex Ferguson Elementary School that teaches kindergarten to grade six.

Second is the Salvation Army Children's village school for kids with learning handicaps.

Junior High designation is Vincent Massey and Mount Royal Junior High's, while High School designation is between Ernest Manning and Western Canada.
Shaganappi Demographics
Looking for a inner city home or infill to live in is a really important decisions. Check out some important stats that could help achieve a better concept of what it would be like to live in the community of Shaganappi. (City of Calgary, Civic Census 2009)

Ages 24 and below – 25.7%
Ages 25 to 54 – 54.2%
Ages 55 and up – 20.0%
Average household income – $44,905 (Statistics Canada, 2006 Census)
Percentage of population with a High School Diploma or higher – 80.1%
Ratio of residents who own their property – 44.1%
Ratio of residents who rent their property – 56.5%
Public Transportation
17th Avenue and Bow Trail are two public transportation mainstays that have bus routes going west and east providing residents easy access to surrounding areas and downtown. Routes that travel walking distance from or within Shaganappi include Renfrew and Spruce Cliff, Signal Hill, Valley Ridge, Circle Routes, Coach Hill, Strathcona, 69th Street, Glenbrook, Cougar Ridge, BRT North /West and Lakeview.
Getting around is easy without a vehicle when living in Shaganappi!
Shaganappi Community Boundaries Are:
Northern Border – Bow River from Spruce Drive SW / 8th Avenue SW to 24th Street SW

Eastern Border – 24th Street SW from the Bow River to 17th Avenue SW

Southern Border – 17th Avenue SW from 24th Street SW to 33rd Street SW

Western Border – 33rd Street SW, Spruce Drive SW / 8th Avenue SW from 17th Avenue SW to the Bow River
Questions about Calgary Inner City Infills?

Let me answer them for you! Call me today at 403-370-4180 or message me using the contact form found at the bottom of your web browser
Calgary Infill Resources
Search all Shaganappi listings and infill homes below, let me know if you have any questions or how I can be of further assistance in any way!
Shaganappi MLS® Listings and Infill Search
No listings found.
Data was last updated November 29, 2020 at 05:30 AM (UTC)