Calgary: Leading Ecological City
January 7, 2012
By Cody Battershill
Calgary: World Leading Ecological City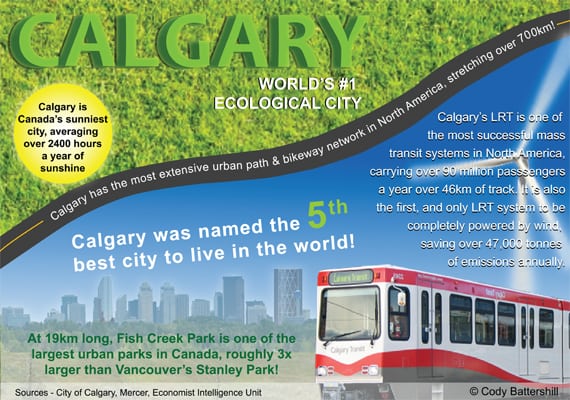 Calgary is Canada's sunniest city, averaging over 2400 hours a year of sunshine
Calgarians enjoy it everyday! Calgary has the most extensive urban path and bikeway network in North America, stretching over 700km!
Calgary was named the 5th best city to live in  the world by the Economist in the 2010 and 2011 Livability Survey.
Calgary's LRT (light rail transit)is one of the most successful mass transit systems in North America, carrying g over 90 million passengers a year over 46km of track. It's also the first, and only LRT system to be completely powered by wind, saving over 47,000 tonnes of emissions annually. Currently a new line is under construction, the WEST LRT will be finished in 2012! Calgarians rejoice!
At 19km long, Fish Creek Park is one of the largest urban parks in Canada, roughly 3x larger than Vancouver's Stanley Park!
Calgarians enjoy curbside recycling and numerous recycling and e-cycling depots throughout the city.
Living in this great place you enjoy awesome public transit, urban parks and never ending green space, rivers, pathways and much more. What an amazing city to live in! What is your favourite ecological thing about where you live ?