Calgary Real Estate Market Update February 2013
March 1, 2013
By Cody Battershill
Calgary Real Estate Market Update February 2013
Residential sales in the City of Calgary for February 2013 totaled 1,711 units, a slight decline of 1 percent in a year over year comparison. While total residential sales are down, the sales growth in Calgary's resale condo market has increased by double digits, up 13 percent in comparison to February of 2012.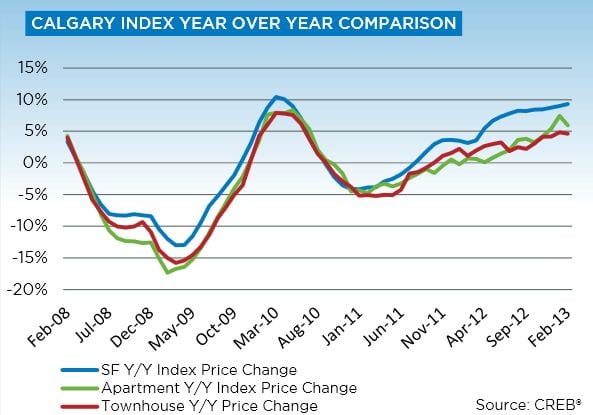 As new listings come onto Calgary's real estate market, home buyers are making faster decisions on what they are buying since a large majority of these homes are selling closer to their original listing prices, and in less time.
Also, many buyers are beginning to turn towards the Calgary condo market as single-family homes have increased in benchmark price, which has left fewer options for those looking for a more affordable home.
Calgary Real Estate Single-Family Home Market
Single family benchmark price of $442,500, an increase of 1.3 percent over January 2013 and a 9 percent increase year over year

Supply levels continue to decline, leaving fewer options for home buyers
Calgary Real Estate Condominium and Townhome Market
Condo apartment benchmark price of $252,900, an increase of 6 percent year over year

Townhome benchmark price of $283,200, an increase of 4.7 percent year over year

These benchmark prices are still 14 percent below those seen during peak activity levels in the last economic boom of 2007-2008.
While the local economy still isn't up to peak levels like those seen in 2007, home buyers still have some security in the long-term outlook for Calgary's housing market and are fundamental in its continued growth.
More Calgary Real Estate Statistics
Calgary Real Estate Market Update December 2012
Questions about Calgary Real Estate?
Please call me anytime at 403-370-4180 or message me below. I am an experienced Calgary REMAX Realtor and would love to share my intimate knowledge of the local real estate market with you, anytime!
[gravityform id="1" name="How Can I Help?" title="false" description="false"]