Calgary Real Estate Market Update January 2013
February 2, 2013
By Cody Battershill
Calgary Real Estate Market Update January 2013
Calgary's residential home sales have gone up 15 percent on a year over year basis from 1,068 units in January 2012 to 1,230 homes in January 2013. While this is a substantial increase, home sales are still lower than what they were during the climax years of 2003 to 2008.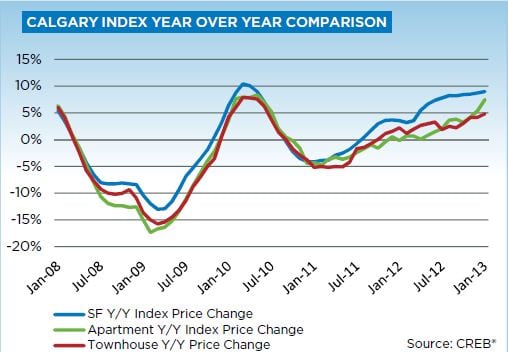 Inventories for single family homes have improved, as is the trend for the cold winter months, but still remain lower than those seen in January 2012. These lower inventory levels are pushing buyers to make quicker decisions on what and when to buy, but by no means do they give the sellers any advantage.
Most often than not, home buyers are price sensitive and are always looking for value out of their purchase. Onto the statistics, shall we...
Calgary Real Estate Single Family Home Market
Year over year 15 percent gain with 879 homes sold

1,737 new listings in January 2013 remain slightly above numbers in January 2012

Year over year benchmark price increase of 9 percent, but in comparison to December 2012, remain relatively the same
Calgary Real Estate Condominium and Townhome Market
Year over year apartment benchmark price increase of 7.5 percent at $251,300

Year over year condominium townhome benchmark price increase of 4.9 percent at $283,400

Sales have increased for condos and townhomes in January 2013

New listings are on the decline
Today, there is a careful optimism for the local Calgary economy. Energy companies are facing challenges in accessing the petroleum markets, and are looking at several options to expand into more diverse markets.
If they are successful in finding options that are economically practical and pass all regulations, then the economy would be supported by such and continue to see growth in the times ahead.
More Calgary Real Estate Statistics...
Calgary Real Estate Market Update December 2012
Questions about Calgary Real Estate?

Call me anytime at 403-370-4180 or message me below for answers! I have intimate knowledge of all aspects of the local Calgary real estate market and would love to share it with you!
[gravityform id="1" name="How Can I Help?" title="false" description="false"]