Calgary Real Estate Market Update April 2013
May 5, 2013
By Cody Battershill
Calgary Real Estate Market Update April 2013
April has ushered in a new high benchmark price of $452,900 for single family homes in Calgary. The market has continued to be in favour for home sellers with low supply and high demand and has finally driven the price higher than seen during peak levels in 2007.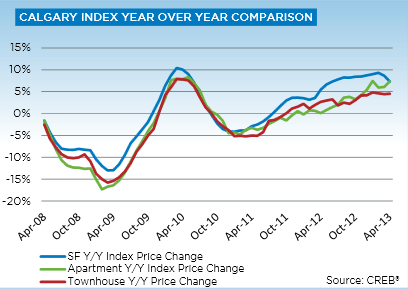 Condominiums and residences close by outside of Calgary are becoming a popular alternative for home buyers as the selection of lower priced homes decreases and market conditions favourable for home sellers continue.
Calgary Real Estate Single-Family Home Market
1,611 total single family homes sold, 2 percent higher year over year

Year to date single family home sales are similar to those seen in 2012

Sales growth slowed in the beginning of 2013 due to a lack of supply and new listings

An increase of 5.4 percent in new listings year over year has helped increase the amount of sales
Calgary Real Estate Condominium and Townhouse Market
1.259 total condominium sales, an increase of 11 percent year over year

7.35 percent benchmark price growth for condominiums year over year

Unlike their single-family home counterparts, condominiums benchmark price is still sitting well under peak levels of 2007.

Inventory levels for condominiums decrease to 871 units as the number of condo sales have become greater than the amount of new listings

Less inventories has given way to a Calgary condominium market more favourable for condo sellers than buyers
Calgary Real Estate Market Update
City wide benchmark price is $406,000, a 7 percent increase year over year

Another 7 percent increase of total new residential listings with 3,476

Sales activity also increasing to 2,381 units

Year to date sales increased 4 percent year over year
Calgary's real estate market continues to perform well in spite of softening trends seen in other parts of Canada. Inbound migration, employment opportunities, high average wages and low interest rates are a few main factors as to why this is so.
More Calgary Real Estate Market Updates
Calgary Real Estate Market Update March 2013
Questions about Calgary Real Estate?

Ask an experienced Calgary REMAX Realtor today! Call me anytime at 403-370-4180 or message me below. I am looking forward to helping you accomplish your real estate goals!
[gravityform id="35" name="Here to Help" title="false" description="false"]