Calgary Real Estate Market Update April 2015
May 3, 2015
By Cody Battershill
Calgary Real Estate Market Update for April 2015
- Declining home prices are cause for less new listings on market –
Calgary's residential sector has seen a decline in benchmark prices for five consecutive months now, which has been cause and effect for a lower number of new home listings – 3,064 units in April 2015 – a considerable 18 drop year-over-year.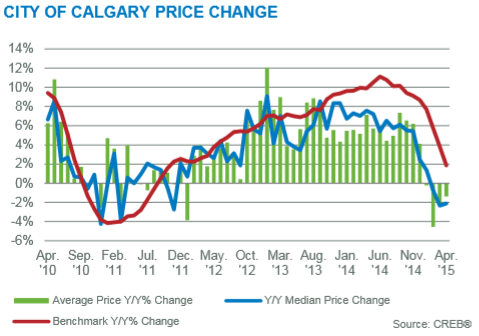 Not as many people are choosing to buy real estate in current economic conditions, providing an improved selection for those that are as well as more time to make decisions.
On the other hand, low sales activity is forcing some sellers to adjust their asking prices or simply delay the selling of their home to another date.
Calgary Real Estate Market Statistics
1,957 total units sold in April 2015, a 22 percent drop year-over-year and almost 15 percent lower than the long term averages seen for the month

Less new listings has helped prevent increases in inventory levels and balanced absorption rates

$510,200 benchmark price for detached homes, a 1.9 percent increase year-over-year but 0.7 percent decrease compared to March 2015

Apartment benchmark price declined 0.2 percent year-over-year and also saw a monthly decline of 0.7 percent

Apartment sales have decreased 33 percent on a year-to-date basis, while new listings have increased by almost 8 percent

High apartment inventory levels has caused more acute both monthly and year-over-year price declines for the sector
More Market Statistics
Areas outside of Calgary have also experienced lulls in sales activity due to a weaker economic climate

1,346 year-to-date sales have been made in surrounding areas, a 26 percent decrease on a year-to-date basis

$434,800 benchmark prices, 0.4 percent below March 2015 and 5.8 percent higher year-over-year
Buyers and sellers would be wise to make sure that they have all the information before making any decisions in today's real estate market. By doing so, they will be able to adjust any expectations they have accordingly and plan best for their future.
Market Updates
See our complete list of Calgary Real Estate Market Updates here - sourced from the Calgary Real Estate Board covering more than two years of monthly updates!
Questions About Calgary Real Estate?

As a top-producing REMAX Real Estate Agent in Canada, I will provide you with all the information you need to make the best and most informed decisions.
Call me anytime at 403-370-4180 or message me below; I am looking forward to your call!

[gravityform id="17" title="false" description="false"]