Calgary Real Estate Market Update April 2016
May 16, 2016
By Cody Battershill
Calgary Real Estate Market Update for April 2016
- Residential market continues to favour buyers' –
Calgary home sellers have had to continue adjusting their expectations for prices as market imbalance weighs in on the city's residential sector.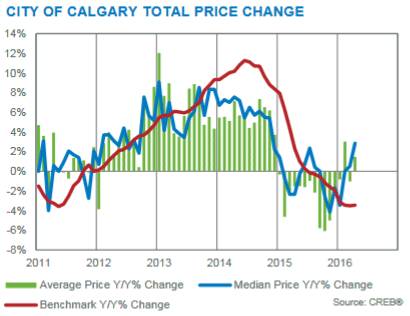 Similar to March 2016, year-over-year sales activity dropped while new listings grew, causing increases in inventory across all of Calgary's residential sectors. This has only given home buyers more to select from while also putting downward pressure on benchmark prices even further.
Some buyers are also waiting a bit longer before they choose to make an offer due to expectations that the aforementioned will happen. Combined with the reality for some sellers' that further listing price drops may be necessary, this has caused uncertainty for many in today's residential market.
Some sectors, however, like the detached sector, have managed to fare better than others. While sales activity has dropped by more than 4 percent since the beginning of 2016 compared to the same time frame last year, the ratio of sales to new listings did improve. This resulted in less inventory gains and a more balanced detached sector in general.
Meanwhile, the apartment sector continued to take hits to sales activity while sharper inventory gains also persisted throughout April 2016. It also has met strong competition from the new home and rental markets in a residential sector that is caught amid a weak economic climate.
Real Estate Market Facts & Statistics
0.4 percent drop in city benchmark prices compared to March of 2016 to $441,000

3.4 percent drop in city benchmark prices from last year

Year-to-date attached home sales dropped by 13 percent

Year-to-date apartment sales dropped by 19 percent

Semi-attached benchmark decline by 5.9 percent since the beginning of price drops

Row benchmark decline by 4.6 percent since the beginning of price drops

Detached decline by 4.1 percent since the beginning of price drops

$501,500 detached benchmark price, a 0.2 percent drop compared to March 2016 and 3 percent lower year-over-year
More Market Updates
See our month-to-month Calgary Real Estate Market Updates for more statistics, trends and analysis on all of Calgary's residential sectors today!
Questions About Calgary Real Estate?

As a highly experienced REMAX real estate professional, I promise to deliver only the best level of service and advice the industry has to offer while discerning all of your real estate needs.
Call me anytime at 403-370-4180 or message me below. I am looking forward to your call!

[gravityform id="35" title="false" description="false"]