Calgary Real Estate Market Update April 2018
May 1, 2018
By Cody Battershill
Calgary Real Estate Market Update for April 2018
- Lower sales activity in March continues through April -
Alberta's struggling economic recovery has made a mark on Calgary's residential housing market, the effects of which were seen last month as soft sales persisted through March and April of 2018. Furthermore, changes to mortgage rules and regulations have also taken its tole on buyer confidence.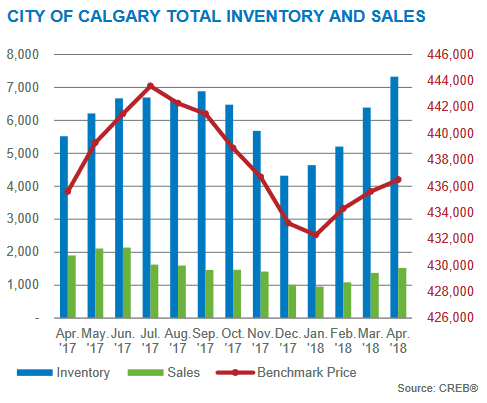 Last month inventory levels did not adjust to the lower sales activity, preventing any benchmark price recovery. However, it's important to note that slower sales aren't necessarily a big surprise considering that the economy hasn't recovered enough to offset the impact of changes made by the federal government on mortgage rules and regulations.
A good thing about the amount of current inventory in Calgary's housing market is selection. Heading into the spring market, there's a lot of options for buyers. Meanwhile, sellers are being forced to decide on a price they are willing to accept for a lifestyle change.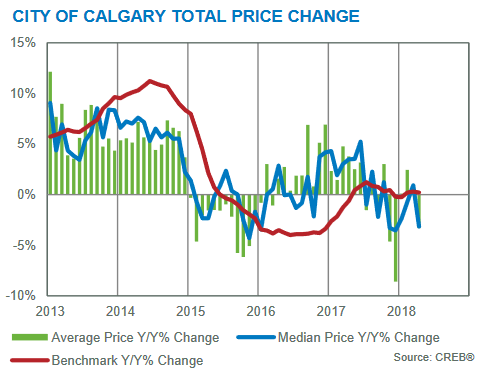 Year-to-date, attached and apartment sales have dropped to levels similar to those in 2016. However, an increasing amount of new listings in both sectors has pushed supply levels to the highest they've ever been in 2018. This has prevented any significant price recovery in these two markets.
April 2018 Real Estate Market Facts & Statistics
1,518 total sales in April, 20 percent lower year-over-year and 25 percent lower vs. long term averages

2,991 total detached sales year-to-date, 27 percent lower than the long term average (10 years)

7,324 total units in inventory, 32 percent higher year-over-year but below the record high of 10,129 seen in 2008

$436,500 city-wide benchmark price, a 0.21 percent gain year-over-year

$502,625 detached benchmark price, 0.49 percent higher year-over-year

Detached sales slowed across all city districts, resulting in inventory gains

Detached price changes vary depending on the district. Year-to-date, declining prices were limited to the North, North East and East sectors.

Detached prices remain approximately 3 percent higher in the City Centre and West districts on a year-over-year basis

823 total condominiums sold year-to-date, 15 percent lower year-over-year and 27 percent lower than the 10 year average

Townhome row unit prices are 1 percent higher year-to-date compared to the same time frame in 2017

$256,700 condominium benchmark price, 3 percent lower year-over-year and 14 percent lower than highs of 2014

Condominium months of supply remain well above seven months

Semi-detached prices remain relatively unchanged on a year-to-date comparison with 2017 with declines in the North, North West and South East sectors being offset by increases in the City Centre, West, South, North East and East.
Ask a REALTOR®
Calgary's housing market is made up of different sectors such as apartments, attached, detached, semi-detached, row units and so on and so forth. It's important to understand that each of these segments may be reacting differently, which is why contacting a professional agent and REALTOR® is so crucial for success.

The best way to begin is to find a REALTOR® who specializes in your community and / or property type whether buying or selling. This way, you'll know that you're getting only the best advice throughout your transaction and may keep more money in your pocket as a result!

As an experienced REALTOR® with REMAX real estate, I would love to help guide you through your next transaction in Calgary's dynamic housing market. Call me anytime if you have questions about market conditions or real estate and I will be happy to assist you!
Calgary Housing Market Updates
See our complete list of Calgary Real Estate Market Updates for month-to-month statistics, trends and analysis sourced from the Calgary Real Estate Board today!
Questions about Calgary Real Estate?

As a top-producing REMAX real estate agent in Canada (2013, 2015, 2015h) with well over a decade of experience, I guarantee only the best service, advice and representation while taking care of all your real estate needs.
Call me anytime at 403-370-4180 or send a message below for a quick, if not immediate response. I am looking forward to helping you accomplish your real estate goals! 

[gravityform id="35" title="false" description="false"]