Calgary Real Estate Market Update April 2019
May 1, 2019
By Cody Battershill
Calgary Real Estate Market Update for April 2019
- No Change in Sales, But Inventory Declines -
Calgary's residential market saw a slight decline in inventory during April of 2019, with no significant changes in sales activity. In other words, not much has changed from the previous month.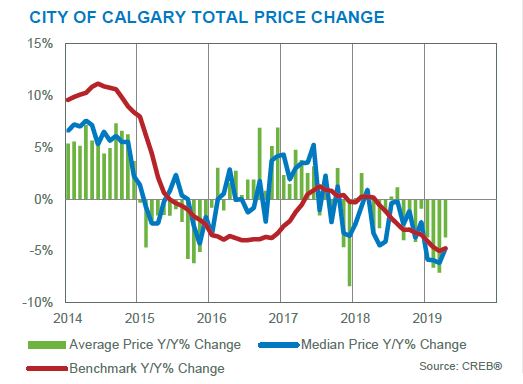 Good news is that the drop in new listings was substantial enough to begin lowering inventory levels across the city. In April, the months of supply sat at 4.6, still reflecting oversupply in the market but showing an improvement over the last 7 months.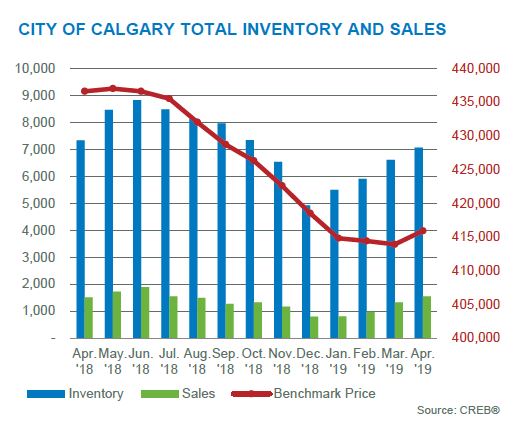 Demand remains somewhat weak in the resale market, but if supply levels continue to adjust as seen in April 2019, it may begin to push the market towards price stability.
April 2019 Real Estate Market Facts & Statistics
$415,900 city-wide residential benchmark price, 5 percent lower year-over-year but slightly higher than last month
1,547 total sales, 2 percent higher year-over-year, although year-to-date sales remain 6 per cent lower versus 2018 and 26 per cent lower versus the long term average
Attached Homes
Attached sales activity improved year-over-year for the second consecutive month, nearly offsetting declines seen in January and February
1,113 year-to-date sales, about 1 per cent lower than last year and 14 per cent lower versus the long term
Year-to-date sales improved in all of Calgary's districts except for the West, North West and City Centre
Higher sales activity and less new listings has prevented further inventory gains while months of over supply have trended downwards as a result – to five months
$395,300 semi-detached benchmark price, higher in April than the previous month, but still 5 per cent lower on a year-over-year basis
$284,900 row benchmark price, more than 5 per cent lower year-over-year
Detached Homes
Detached sales improved by almost 3 per cent year-over-year as a result of gains in homes priced under 500k
Detached sales activity still remains 24 per cent below long-term averages and on a year-to-date basis, 5 per cent lower than in 2018
Districts that saw sales improvement for detached homes in April 2019: North East, North West, South East, South
Detached months of supply remains at four months, despite improved sales activity in some districts
Months of supply has varied substantially depending on the district; South, West and City Centre districts experienced elevated inventory levels in April 2019
Largest year-over-year price declines for detached homes occurred in the South, North West and City Centre districts
Apartments
Despite relative affordability of condos, sales activity has continued to fall across Calgary, in almost every district
714 total apartment condominium sales year-to-date, the lowest level seen in the city since 2001
Decline in new listings is now larger than sales decline, slightly easing condo inventory
1,546 total condo apartment units in inventory, 16 per cent lower than in April 2018
Month of supply remain high at six months, keeping the condo market well into buyers' territory
$250,400 condo benchmark price, similar to March but 2 per cent lower year-over-year and almost 17 per cent below highs seen in 2014

*Sourced from the Calgary Real Estate Board (CREB®)
Ask a REALTOR®
It's highly recommended you ask an experienced REALTOR® for advice on your real estate goals in today's market. This agent will have special tools, extensive knowledge and industry connections that can help you with your transaction, making it as smooth and as stress-free as possible.

If you're unsure of how to find a REALTOR®, we invite you to check out our Calgary REALTOR® Interview Guide today.
Cody Battershill, REALTOR®
As a highly experienced RE/MAX real estate agent and REALTOR® in Calgary, I would love the opportunity to help guide you towards a successful transaction. Call me anytime!
Real Estate Market Updates
See our complete list of monthly Calgary Real Estate Statistics, Trends & Analysis for an in-depth look at how our city's residential market has been shaped over the years.
Questions about Calgary Real Estate?

As a highly experienced, top-producing REALTOR® with RE/MAX House of Real Estate, I guarantee the best service and advice while guiding you step-by-step through your next transaction!
Call me anytime at 403-370-4180 or send a message below for a quick, if not immediate response. I am looking forward to helping you accomplish your real estate goals!

[gravityform id="35" title="false" description="false"]