Calgary Real Estate Market Update August 2018
September 4, 2018
By Cody Battershill
Calgary Real Estate Market Update for August 2018
- Unemployment taking its toll on housing recovery –
Elevated inventory levels, lower sales activity, gains in new listings and high unemployment rates have combined to continue to slow Calgary's residential housing recovery throughout August of 2018 – like that seen in the previous month of July.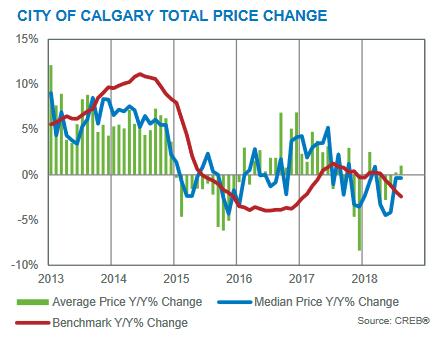 Oversupply in all segments of the market has continued to put downward pressure on benchmark prices. The overall benchmark price city-wide dropped 0.8 percent versus previous months and are 2.4 percent lower year-over-year.
Meanwhile, a persistently high unemployment rate of 7.9 percent and recent losses in full-time positions has done nothing to help the local housing market. There's also the slower-than-expected recovery in the city's energy sector to blame, in addition to more stringent lending rules, higher interest rates and competition from the new home market.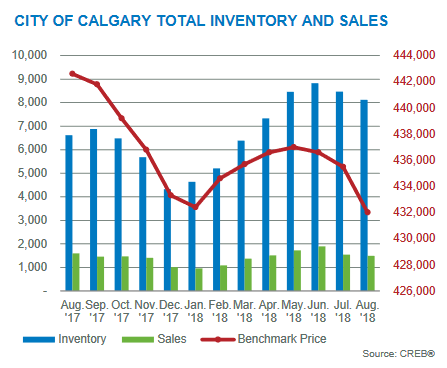 A drop in benchmark prices and sales activity was not consistent throughout all sectors of the city, however. Prices for both the City Centre and West district have remained comparable on a year-over-year basis.
August 2018 Real Estate Market Facts & Statistics
1,489 city-wide units sold in August, 7 percent lower year-over-year and 14 percent lower versus long-term trends
Attached Homes
Sales activity has eased overall but for semi-detached and row townhomes it has improved in some districts

North East and East row townhome sales remain relatively stable

Oversupply of semi-detached homes has put downward pressure on prices thus far, however year-to-date benchmark prices remain higher year-over-year in the East, North East and City Centre districts.

Gains in prices in the aforementioned sectors were enough to offset declines seen in other parts of the city and keep semi-detached prices one percent higher year-over-year

Row townhome benchmark prices dropped 1.5 percent year-to-date compared to the same time in 2017, although prices remained relatively stable in the North West and City Centre.

Row price declines were the most severe in the North East district – with a year-to-date and year-over-year comparison drop of about 7 percent
Detached Homes
Year-to-date sales dropped across all districts while months of supply sit put at just under five months, continuing to weigh in on benchmark prices for detached homes in August 2018

$497,000 detached benchmark price, a 0.74 percent drop versus July and 2.6 percent lower year-over-year

Prices dropped in all districts in August, although City Centre and West sectors remain above those recorded during August 2017

Detached benchmark prices have dropped 0.56 percent on a year-to-date basis when compared with the same time frame in 2017
Apartments
A total of 1,892 apartment sales year-to-date, 7 percent lower than during the same time in 2017

Sales in the North West and North East districts remained slightly higher on a year-over-year basis

New listings dropped on a year-over-year basis, reducing any more gains in inventory levels but persistent oversupply has led to further benchmark price declines

City-wide benchmark prices dropped by about 3 percent, remaining about 14 percent lower than recorded highs seen in 2014

Most substantial benchmark price drops occurred in East, South and North East districts
Ask a REALTOR® 
The uncertainty of high unemployment and dynamics of an ever-changing real estate market has made it more important than ever to seek the advice of a professional to help you during your next transaction.

Getting advice from an experienced real estate agent and REALTOR® who is familiar with your house type, community and local market is critical to being 100 percent satisfied with your purchase or sale once all is said and done.

Do your due diligence if you don't know which REALTOR® to use. Here's a few questions you'll want to ask them: Calgary REALTOR® Interview Guide.

As a top-producing REMAX real estate agent in Canada (2013, 2014, 2015h), I would love the opportunity to interview for the job and detail what I have to offer you as a home buyer / seller in Calgary. Call, text, email or send me a message below anytime and I'll be happy to help!
Calgary Housing Market Updates
See our complete list of Calgary Real Estate Market Updates for month-to-month statistics, trends and analysis all sourced from the Calgary Real Estate Board (CREB®).
Questions about Calgary Real Estate?

As a highly-experienced REALTOR® in Calgary, I promise to guide you step-by-step through your next transaction while providing the best service and advice the industry has to offer.
Call me anytime at 403-370-4180 or send a message below for a prompt, if not immediate response. I am looking forward to helping you accomplish your real estate plans!

[gravityform id="35" title="false" description="false"]