Calgary Real Estate Market Update August 2019
September 4, 2019
By Cody Battershill
Calgary Real Estate Market Update for August 2019
- Lower priced homes boost sales activity –
In August of 2019, Calgary's residential home market saw new listings and inventories drop with increased sales activity driven by lower priced homes below $500,000.
New listings have eased this month, helping the market shift towards a more balanced position.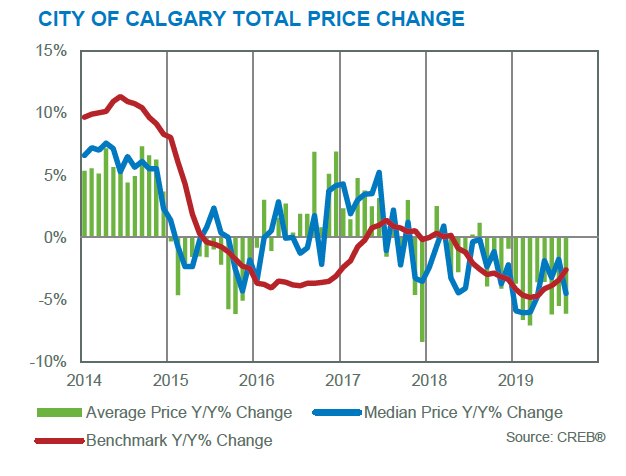 According to the Calgary Real Estate Board, employment figures are improving but not in high paying industries like traditionally seen in the city.
This is reflected in the demand for lower priced homes below half a million.
Rising sales in this price range offset declining sales in higher price ranges, giving a 6 per cent boost in sales activity for the city compared to August of 2018.
Sales activity for all types of homes improved this month, especially for apartment-style and attached properties.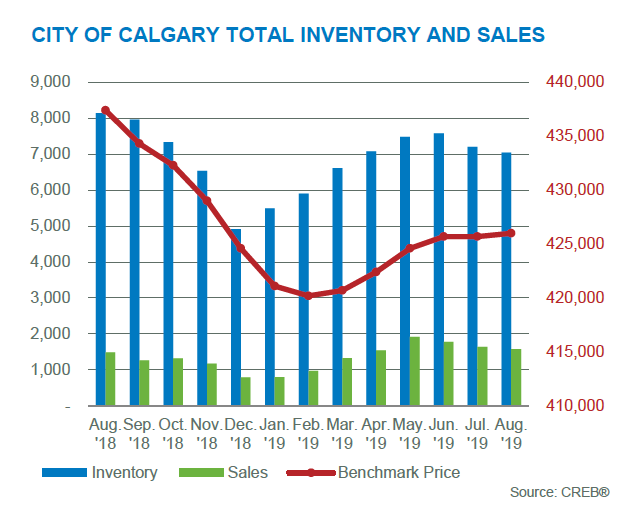 Attached homes have been on a roll, with improved sales for six consecutive months on a year-over-year basis.
The attached sector is the only one with year-to-date sales higher than that seen in 2018.
Despite improvements in Calgary's real estate market in August 2019, it will still take time to return to a full recovery.
Inventory levels remain slightly higher than usual and the market continues to favour buyers with more than four months of supply.
August 2019 Calgary Real Estate Statistics + Facts
$426,000 unadjusted citywide benchmark price, similar to July of 2019 but 2.6% lower year-over-year
More than four months of supply has kept the market far into buyers' territory
Attached Homes
Attached home sales recorded another boost in sales activity, the sector's sixth consecutive month
2,665 year-to-date attached sales, about a 5% increase year-over-year
Attached inventories are dropping as a result of less new listings entering the market
Months of supply for attached homes dropped to 5 versus 6 in August of 2018
Some monthly gains in benchmark prices have been seen for the attached sector this month, but they remain 2.6% lower year-over-year
Detached Homes
Detached sales activity remains slightly below that of 2018, but is higher in the North West and South districts for August 2019
City-wide sales activity has grown below $500,000, but homes priced higher than this have seen increased inventory and pushed this segment of the market further into buyers' territory
Benchmark price declines for detached homes ranged from 1% in the South East to about 5% in the South on a year-over-year basis
Apartments / Condominiums
Apartment sales activity improved for the second consecutive month, but such gains were met with more new listings entering the market
On average, the amount of apartment inventory has eased on a year-over-year basis
Overall, apartment benchmark prices eased in August of 2019 versus the year before, but the South East, North East and East districts saw modest gains
Apartment benchmark prices remain well below highs recorded in 2014
Ask a REALTOR®
Aren't sure if you should make a move in today's market? If so, you'll want to contact an experienced REALTOR® for a 100% free, no-obligation consultation and discuss your real estate plans!

REALTORS® are usually full-time agents who have the knowledge, skillset and experience to help you accomplish your real estate goals in a timely and no-pressure manner.
Cody Battershill, REALTOR® with RE/MAX
As a top-producing RE/MAX real estate agent in Canada (2013,2014,2015h) and top 5 producer in my office in 2018, I guarantee to provide you with the best service and advice the industry has to offer.

Call me anytime to discuss your real estate goals at 403-370-4008 or leave a message below and I'll get back to you as soon as possible!
Real Estate Market Updates
See our monthly Calgary Real Estate Market Updates for more statistics, trends and analysis today!
Questions about Calgary Real Estate?

[gravityform id="35" title="false" description="false"]