Calgary Real Estate Market Update December 2017
January 2, 2018
By Cody Battershill
Calgary Real Estate Market Update December 2017
- December inventory and sales both increase –
Calgary's residential market saw an improvement in sales activity across all sectors to levels comparable with long-term averages – the second month in a row that this has happened.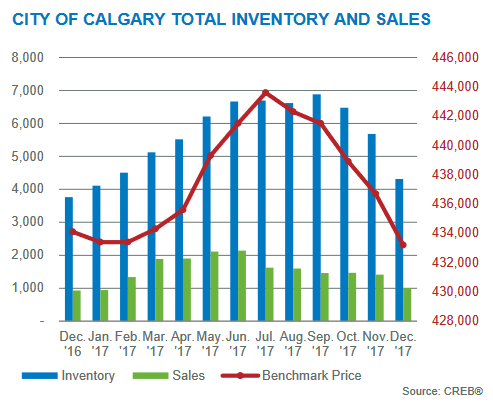 While this is good news, inventory levels also increased which led to higher than usual supply levels in the month of December. With more listings entering the market compared to sales leaving, overall benchmark prices were pushed downward slightly for the fifth month in a row.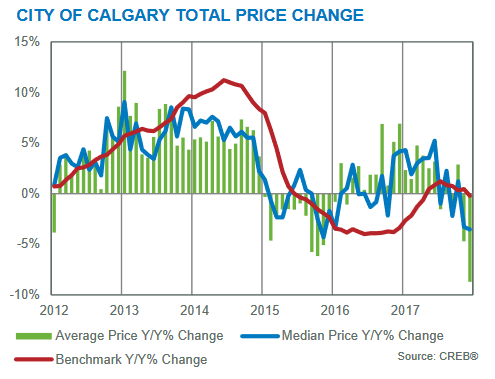 Economic indicators continue to point towards a positive direction for Calgary's home market. However, demand has not yet caught up with the amount of additional supply being listed. This is creating a bumpy road in terms of price recovery.
December 2017 Real Estate Market Facts & Statistics
$504,567 overall detached benchmark price in 2017, 0.63 percent higher than in 2016

11,831 total detached sales in 2017, 5.6 percent higher than in 2016 but 9 percent lower compared to the long-term average

Apartment benchmark price saw a decline of 4 percent throughout 2017

Apartment benchmark prices are 12 percent lower than they were at the start of the economic recession

$332,325 attached benchmark price to end 2017, comparable to that seen at the end of 2016

$422,333 semi-attached benchmark price to end the year, 4 percent higher than in 2016 and 0.9 percent lower than annual highs

$329,200 row housing benchmark price, 3 percent lower than in 2016 and 9 percent lower than annual highs
In 2017, many consumers decided to purchase real estate with the expectation that the economy had already upturned. There were also many people who waited to list their home until prices showed more stability.
The market is ending the year with strong sales activity, although inventory levels are still holding back benchmark gains. All that happened in 2017 played out as expected because of the transition that declining benchmark prices must make back to stability.
Ask a REALTOR®
Recent indicators suggesting that Alberta's economy is now on the upswing doesn't necessarily mean that all of Calgary's housing market is also. Yes, some sectors are performing much better than others, but as a whole there are still some segments experiencing declining benchmark prices.

This is why you need only the best advice when navigating Calgary's residential market. Getting a 100 percent free, no-obligation consultation with an experienced REALTOR® when selling or buying real estate in the Calgary Metropolitan Area is key to a successful transaction!

Don't be afraid to ask me about Calgary's real estate market – anytime! I am available to help guide you through today's ever changing market and provide advice on questions or concerns you may have. Call me today!
Calgary Home Market Updates
See our complete list of Calgary Real Estate Market Updates for month-to-month analysis, sales and trends all sourced from the Calgary Real Estate Board (CREB®).
Questions about Calgary Real Estate?

As a top-producing REMAX real estate agent in Canada (2013, 2014, 2015h) and REALTOR® in Calgary, I guarantee to provide only the best in advice, service and representation the industry has to offer while taking care of all your client needs.
Call anytime at 403-370-4180 or message me below for a prompt, if not immediate response. I am looking forward to helping you accomplish your real estate plans! 

[gravityform id="35" title="false" description="false"]