Calgary Real Estate Market Update February 2017
March 2, 2017
By Cody Battershill
Calgary Real Estate Market Update for February 2017
- Detached sales perform, boosting February's residential market –
After the first two months of 2017, detached homes are beginning to fuel a slow transition in Calgary's residential market. Total sales in February were 1,342 units, an improvement year-over-year compared to 2015 and 2016 but still 19 percent lower below long-term averages for the city.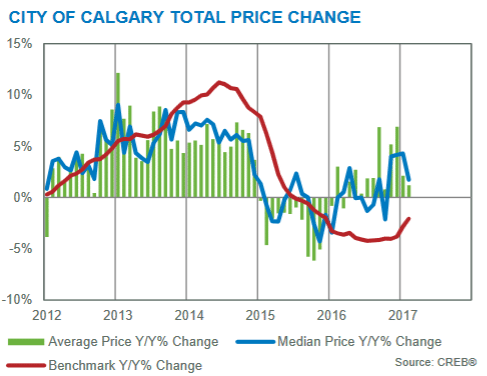 As sales activity slowly creeps upward, detached inventory continued to decrease in February causing months of supply to drop to 2.4 months while also lowering downward pressure on prices.
The unadjusted detached benchmark price totaled $501,900 for the month, slightly higher compared to last month but one percent lower year-over-year.
Total overall inventory eased in February, setting the stage to a transition for a more stable residential market later this year – especially during spring and summer months where a larger number of transactions occur compared to the colder seasons.
With new listings and inventories contracting while sales improve – two key indicators of a balanced market – there's reasonable evidence to conclude that the residential sectors are trending towards more balanced conditions.
February 2017 Real Estate Market Facts & Statistics
General months of supply comes in at 3.4 months, down from 5 months on a year-over-year-basis

Sales-to-new-listings ratio jumped 16 percent from a near record low last February at 39 percent to 55 percent this year

Apartment sectors continue to face elevated inventory levels despite improved sales

With 5.9 months of supply, downward price on apartments continued throughout February

Semi-detached sector beginning to see some stability

Despite year-over-year contraction in attached inventory levels, supply has increased in the $200,000 to $299,999 price range, supporting a jump in sales activity for the sector in that price range

$269,200 apartment benchmark price, a 0.26 percent drop over January and more than 5 percent lower year-over-year

Detached sector saw a noticeable drop in months of supply in every price range, with many comparable to the long-term averages for the city

North West, West and East districts have seen modest detached benchmark price gains on a year-over-year basis
It will take some time for these conditions mentioned above to apply to all sectors of the housing market – not just detached properties – and result in any benchmark price recovery.
For now, all indicators point towards a gradual transition from a shrinking housing market to one that is in more stable condition.
More Market Updates
See our Calgary Real Estate Market Updates for statistics, trends and analysis on a month-to-month basis all sourced from the Calgary Real Estate Board (CREB®).
Questions about Calgary Real Estate?

As a highly-experienced REMAX real estate agent and REALTOR® in Calgary, I promise to provide only the best level of service and expertise the industry has to offer.
Call me anytime at 403-370-4180 or message me below for a quick response. I am looking forward to helping you accomplish your real estate goals! 

[gravityform id="35" title="false" description="false"]