Calgary Real Estate Market Update February 2018
February 28, 2018
By Cody Battershill
Calgary Real Estate Market Update February 2018
- Residential market prices stay put, but sales drop -
Calgary's housing market saw a drop in sales activity in February of 2018, but a decrease in new listings also helped keep prices stable. There were 1,094 total sales in the month, approximately 18 percent lower year-over-year.
All of Calgary's residential sectors saw lower sales which outpaced the increase in sales activity seen in January of 2018. The decrease in the number of new listings was not enough to prevent further gains in months of supply, but it did help to reduce the effects of slower sales activity.
Overall, sales activity in February 2018 remain well below long-term averages seen for Calgary's residential market.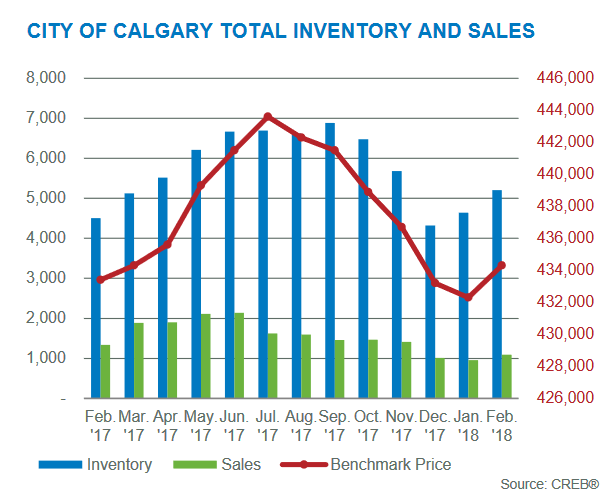 The Calgary Real Estate Board's (CREB) Chief Economist, Ann-Marie Lurie, suggests that housing market conditions are still adapting to the changes in lending requirements and rise in lending rates introduced by the government as of late.
It will be a bumpy road she says, with the full effect of these changes to be understood in the coming months when the supply response is seen. See Real Estate Terms Defined: Months of Supply / Inventory to learn more.
February 2018 Real Estate Market Facts & Statistics
A total of 1,094 sales in February 2018, 18 percent lower year-over-year

$434,300 city-wide benchmark price, slightly above levels last month but similar to those seen last year

Detached months of supply continues to sit at just under 4 months

Detached sales in the $600,000 to $1 million range saw lowest sales to new listings ratio of all sectors

A total of 1,240 detached units have been sold year-to-date, 12 percent lower year-over-year and 22 percent lower compared to the city's long-term averages

Detached benchmark prices have averaged $501,100, similar to those seen the previous year

Semi-detached and row product continue to show varying levels of oversupply, affecting price recovery

Semi-detached has averaged $417,300 benchmark price year-to-date, about 1 percent higher year-over-year

Row homes have averaged $296,050 for the first two months of 2018

Apartment condominium sector continues to see large amounts of supply – at nearly 8 months, higher than the 7 months of supply seen in February 2017

Apartment benchmark price is 3 percent lower year-over-year at $256,300, with recovery being prevented by continued entry of new listings onto the market and increased supply levels

With all the latest changes to mortgage requirements and rates, home buyers should seek pre-approval for a mortgage so they know exactly what type of property and price point they can begin to shop around for.
Ask a REALTOR®
Calgary's residential market today is as dynamic as it gets. While one sector may be experiencing halted or slight benchmark price growth, another may have seen multiple year-over-year decreases. This is one reason, among several other, as to why you should consult a REALTOR® in Calgary before making a move in the local real estate market!

Make sure to look for an agent who specializes in the potential area and / or home type you're interested in. You deserve only the best service, advice and third-party representation when navigating today's residential market – don't settle for anything less!

Call me anytime about questions or concerns you have with current market trends. I am available to help guide you through today's ever changing residential market and provide expert advice 100% free and without obligation!
Calgary Home Market Updates
See our complete list of month-to-month Calgary Real Estate Market Updates dating back to 2012 today!
Questions about Calgary Real Estate?

As a top-producing REMAX real estate agent and REALTOR® in Calgary, I guarantee to provide only the best service and advice the industry has to offer while taking care of all your real estate needs.
Call me anytime at 403-370-4180 or message me below for a quick, if not immediate response. I am looking forward to helping you accomplish your real estate plans! 

[gravityform id="35" title="false" description="false"]