Calgary Real Estate Market Update for January 2017
– January residential market better than last years –
For four straight months, inventory levels have experienced declines on a year-over-year basis. With 4,112 total units, January 2017 had 18 percent less properties for sale than in January of 2016.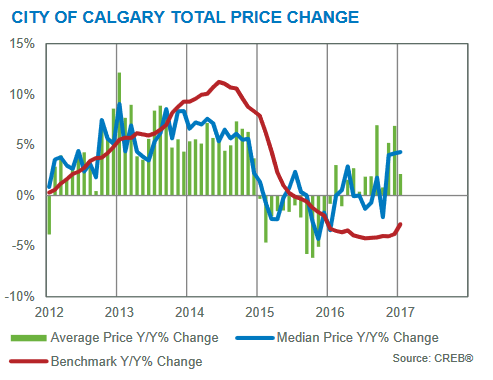 Throughout 2017 it's likely that there will be a slow transition towards more balanced conditions that will also reduce drops in benchmark prices for most sectors.
And while conditions may be better than last years' thus far, we all should all remember that 2016 was one of the weakest years for Calgary's housing market ever recorded. See our Calgary Real Estate Market Update for November 2016 today.
January 2017 Real Estate Market Facts & Statistics
947 total units sold, 24 percent higher year-over-year but 21 percent lower compared to 10-year averages for the month

$437,400 city-wide benchmark price, 0.16 percent lower than last month and 2.82 percent lower year-over-year

Sales activity improved in all sectors, but only compared to record lows seen in January of 2016

$359,100 city-wide detached benchmark price, lower year-over-year but relatively unchanged for specific areas such as the West and East districts

Detached sector showing most improvement with 584 total units sold, up from 466 last year

Inventory levels have dropped to 3.2 months of supply, down from 5.4 last year

$269,900 apartment benchmark price, 5 percent lower year-over-year and 11.5 percent lower compared to January of 2014

Despite increased apartment sales, new listings continued to increase and so did inventory levels

$330,300 detached benchmark price, 3.7 percent lower year-over-year but similar to that of December 2016
While little improvements have been seen in Calgary's residential market this month, there are still many factors that could influence home buyers' decisions to make a move (or not) in the coming months.
Therefore it's absolutely crucial that both sellers and buyers get only the best level of advice from an experienced and reputable real estate agent in today's dynamic residential market.
More Market Updates
See our complete list of month-to-month Calgary Real Estate Market Updates for attached, detached and apartment properties today – and get the best advice!
Questions about Calgary Real Estate?

As a Calgary REMAX real estate agent and REALTOR® with almost 15 years of experience, I promise to provide only the best level of service and advice the industry has to offer while discerning all of your real estate needs.
Call me anytime at 403-370-4180 or message me below and Ill return your text promptly. I am looking forward to helping you accomplish your real estate goals!