Calgary Real Estate Market Update January 2018
February 6, 2018
By Cody Battershill
Calgary Real Estate Market Update January 2018
- Housing market trends all too familiar –
The Calgary Real Estate Board (CREB®) predicted that January 2018 sales activity would be relatively close to those recorded in January since 2015 – and they were right.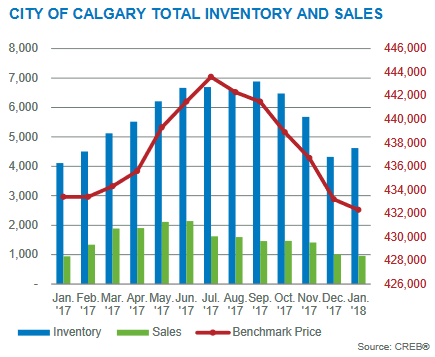 Because of new mortgage rates and rules introduced by the Bank of Canada (BoC), sales activity remained relatively comparable to those in 2017 as the increase in sales for attached homes was not large enough to counteract declines seen in the detached and apartment sectors.
The beginning of 2018 kicked off with the application of new mortgage requirements and higher interest rates by the BoC. It still is too early to see what the effects of these will be on Calgary's residential market, however, it is noted by industry professionals that a recovery back to more stability and better sales activity like that seen pre-2014 will no doubt be a bumpy road.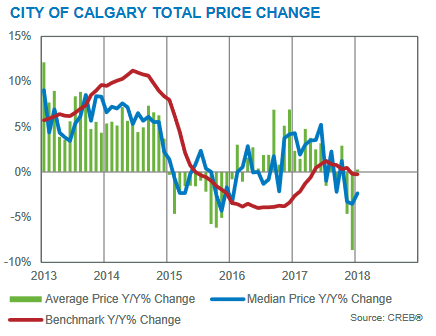 Stable sales were met by a larger amount of new listings entering the market, creating more supply and downward pressure on benchmark prices for all sectors compared to December 2017.
January 2018 Real Estate Market Facts & Statistics
$432,300 city-wide unadjusted benchmark price, 0.21 percent lower than December 2017 and 0.25 percent lower year-over-year

958 total units sold, 2 percent higher year-over-year and 11 percent lower than long-term averages

583 total detached units sold, similar year-over-year and 13 percent lower than long-term averages

Easing detached sales met with increased new listings, increasing months of supply to 3.75, a bit higher than 3.18 months in January 2017

$499,400 overall detached benchmark price, similar year-over-year and comparable to December 2017

145 total apartment units sold, far below long-term averages but comparable to trends seen over the past 3 years.
Calgary home sellers should remain aware that there's lots of competing inventory in the market. This of course can influence the time it takes for buyers' to make a decision in addition to the quality of offers they put forth.
Meanwhile, with the changed mortgage requirements and rates, it's essential that Calgary home buyers' get pre-approved in addition to professional advice from an expert REALTOR® to help them with their real estate transaction.
Ask a REALTOR®
Just because Alberta's economy is slowly making a turn around doesn't mean that all segments of Calgary's residential sector are along with it. Some are doing much better off than others, like the detached is versus the apartment sector, for example, but there's still some grey area. This is where an experienced REALTOR® comes into the picture.

You need only the best service, advice and third-party representation when navigating Calgary's dynamic real estate market. Make sure you get a 100 percent free, no-obligation consultation with a REALTOR® who specializes in the potential area and / or home type you want when buying and / or selling real estate in the Calgary Metropolitan area. Doing this is key to having a successful transaction every time!

Call me anytime about Calgary's real estate market. I am available to help guide you through today's ever changing residential sector and provide expert advice on concerns or questions you have.
Calgary Home Market Updates
See our complete list of month-to-month Calgary Real Estate Market Updates for a full set of statistics, trends and analysis all sourced from the CREB®.
Questions about Calgary Real Estate?

As a top-producing REMAX agent in Canada (2013, 2014, 2015h) and REALTOR® in Calgary, I guarantee only the best service, advice and representation the industry has to offer while guiding you step-by-step through your transaction.
Call anytime at 403-370-4180 or message me below for a quick, if not immediate response. I am looking forward to helping you accomplish your real estate goals! 

[gravityform id="35" title="false" description="false"]