Calgary Real Estate Market Update January 2019
February 2, 2019
By Cody Battershill
Calgary Real Estate Market Update January 2019
-  Slow Sales to Start Off the New Year –
Economic challenges continue to make Calgary's residential market recovery as sluggish as it gets. This is similar to the statistics seen in December of 2018.
In January of 2019, total sales were 16 percent lower on a year-over-year comparison and 21 percent below the long-term average, with 804 total units.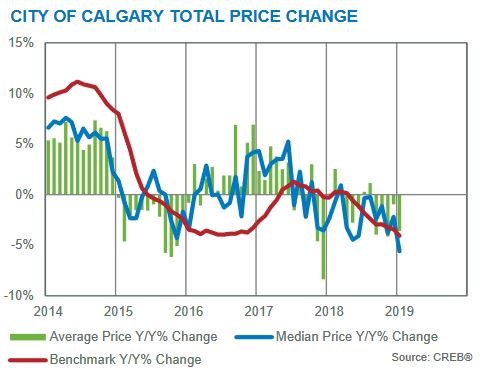 According to analysts, it's no surprise that the new year has started off the way it did. Many consumers are concerned about the current job market and state of the energy sector both provincially and nationally.
It's expected that these slow market conditions will continue through until spring.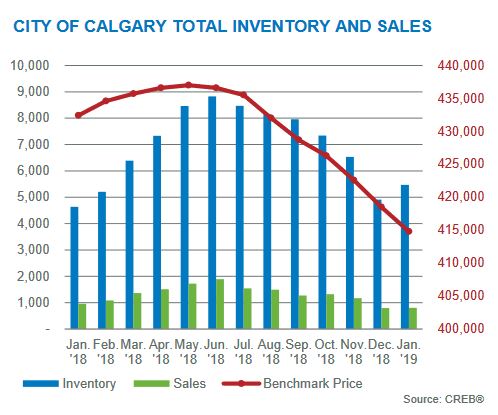 While the amount of new listings entering the market stayed similar to that in January 2018, sales activity remains much lower. A market with inventory levels elevated to nearly seven months is the result.
A continued buyers' market in the first month of 2019 has continued to affect prices. In January 2019, the city-wide benchmark price dropped to $414,800, about 1 per cent lower month-to-month and 4 per cent lower year-over-year.
January 2019 Real Estate Market Facts & Statistics
804 total sales, 21 percent lower versus 10-year average and 16 percent lower versus January 2018
$414,800 city-wide benchmark price, 4 percent lower versus January 2018 and 1 percent lower versus December 2018
Attached Homes
$313,700 attached benchmark price, a 4 per cent decline year-over-year
$393,100 semi-detached benchmark price, about 5 per cent lower year-over-year
Steepest semi-detached price declines were in the South and City Centre districts, with adjustments of more than 6 per cent
$284,300 row benchmark price, a 4 per cent drop year-over-year
Most notable row price declines were in City Centre, with prices about 8 per cent lower year-over-year
All sectors saw row prices drop in January 2019 versus the same month the year before
Row and semi-detached product types saw price declines, increased new listings and rising inventories
Detached Homes
$476,500 detached benchmark price, 1 per cent lower month-to-month and more than 4 per cent lower year-over-year
Prices eased for detached homes in all city districts
Detached sales dropped by 17 per cent versus January of 2018
Despite lower sales activity, detached price declines did not happen in all districts
Sales activity did improve in some parts of the city: North East, North West
Most significant sales activity declines in the North and West districts
New listings rose in all districts except the South East, North East and North
Only the North East district saw months of supply of detached homes drop
Apartments
126 total sales in January of 2019, a 20 percent drop versus the 10-year average and 13 per cent drop year-over-year
Average benchmark price dropped 2 per cent versus January of 2018
Slower sales helped new inventory levels drop; 1,173 total condo units are currently in inventory, 9 per cent lower than levels seen a year before
Months of supply remain high at 9 months despite less new condo listings entering the market
While prices remain far below previous highs in 2014, some price improvements were seen in the South East and North East districts
Get Expert Advice from a REALTOR®
Are you going to make a move in today's real estate market? If so, it's best you get the best service and advice from an expert REALTOR®!

REALTORS® are typically full-time real estate agents who make a living by helping people like yourself buy and sell properties. That means they have more experience, more tools and more connections to help make your move a success!

Aren't too sure how to find a REALTOR® for the job? See our Calgary REALTOR® Interview Guide today.

As a highly experienced REALTOR® with REMAX House of Real Estate, I would love the opportunity to guide you towards a successful purchase of sale. Call me anytime!
Real Estate Market Updates
See our month-to-month Calgary Real Estate Market Updates for a broad look at home sales trends, statistics and analysis dating back to 2012!
Questions about the Calgary Real Estate Market?

As a top-producing REMAX real estate agent in my office (2018) and in top 100 in Canada (2013, 2014, 2015h), I guarantee the best service and advice while guiding you towards accomplishing your real estate goals!
Call me anytime at 403-370-4180 or send a message below for a quick, if not immediate response. I am looking forward to discussing your real estate plans with you!

[gravityform id="35" title="false" description="false"]