Calgary Real Estate Market Update July 2013
August 2, 2013
By Cody Battershill
Calgary Real Estate Market Update July 2013
Tight market conditions have Calgary residential prices following an upward trend in July 2013. A total of 2,268 units were sold during the month, a substantial 17 percent year over year increase and over 6 percent higher than so far in 2013.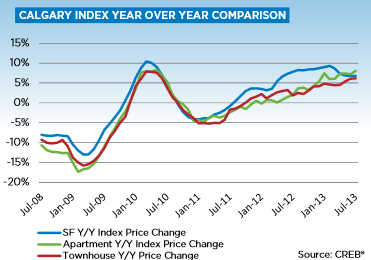 Increased sales activity is likely a result of the disastrous floods that occurred in Calgary during late June 2013. Renters who have been involuntarily removed from their homes and owners who experienced turmoil of their own are fast forwarding their decisions to buy Calgary real estate.
Today, the local real estate market is in favour of home sellers which has supported the price growth seen in July 2013.
Calgary Real Estate Single Family Home Market
1,575 units sold, a 14 percent gain over July of 2012

Sales growth of 2.5 percent from January 1st to July 31st, 2013

$461,600 single-family home benchmark price

1,958 new listings, more than in July 2012

2,917 current listings, close to 20 percent lower than levels in 2012 which were already experiencing decline as is
Calgary Real Estate Condominiums and Townhouse Market
693 units sold, a combined 16 percent sales growth year to date, and a combined 26 percent increase over July 2012

768 active condominium listings, a decline in July 2012 due to increased demand

$267,600 benchmark price for apartments, a 1.4 percent gain year over year

407 active townhouse listings, also declining in July 2012 for the same reason

$294,500 benchmark price for townhouses
Sales growth in the condominium and townhouse markets can largely be contributed to the fact that there are more listings in these categories under $400,000 compared to their single-family home counterparts.
More people are turning towards these types of housing as they are more affordable in a time where single-family home prices continue to stay strong.
Calgary Real Estate Market Update
Average housing prices citywide are 7 percent higher than last year in July

Benchmark price of $414,100

*Sourced from CREB
More Calgary Market Updates
Calgary Real Estate Market Update June 2013
Questions about Calgary Real Estate?

Reach me direct or text me anytime at 403-370-4180. I would love to answer any questions you have and possibly help you accomplish some of your real estate goals!
[gravityform id="35" name="Here to Help" description="false"]