Calgary Real Estate Market Update July 2015
August 3, 2015
By Cody Battershill
Calgary Real Estate Market Update for July 2015
- Despite lower absorption rates, market remains balanced –
Low sales activity combined with stable inventory levels for Calgary's residential sector caused no change in benchmark prices between June 2015 and July 2015.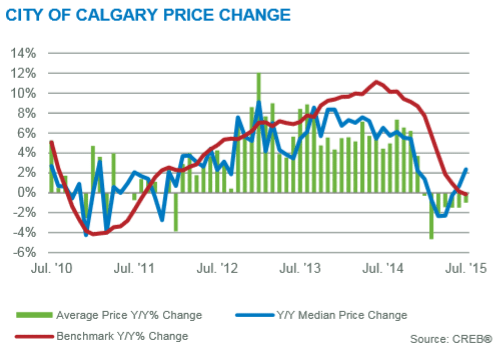 Also, on a year-over-year basis, sales in July 2015 dropped substantially by 14 percent to 1,995 units, a lower figure compared to the 17.8 percent drop seen in June 2015. On a positive note these levels are consistent with the decade-long average seen for Calgary's residential sector.
Declining along with sales activity in July 2015 was the entry of new listings onto the market which caused inventory to increase to about 2.53 months, while the sales-to-new-listings ratio dropped to 67 percent.
The declining numbers associated with Calgary's residential sector seen above are greatly affected by the performance of the local energy industry. Job and spending cuts are in the works in downtown Calgary and across the province, taking its toll not only on the economy, but also the housing market.
Regardless of low sales activity, the Calgary Real Estate Board (CREB®) has said that the market has remained in somewhat balanced conditions which has helped to maintain the same benchmark price month-to-month at $455,500.
July 2015 Real Estate Market Facts & Statistics
0.15 percent annual drop in overall benchmark price, the first time a year-over-year decline has happened since 2011

1 percent drop in overall benchmark price compared to January 2015

Most of year-over-year benchmark drops associated with apartment sector, seeing a 1.61 percent benchmark price decline to $293,300 in comparison to January 2015

4.6 percent decline in new listings and 29 percent sales decline year-to-date for apartment sector

Months of supply in July 2015 up to 3.77 for apartment sector, compared to 3.00 in June 2015

Detached benchmark prices remained stable on a month-to-month basis at $515,300

Absorption rates for detached sector also lower month-to-month, although conditions still are somewhat balanced
Many real estate buyers in today's market are less worried about the short-term prospects and more focused on making the right choices for the long-term.
With that said it is always important as a buyer to become familiar with the market trends for whichever area you are thinking of making a move in so that you can make the absolute best decisions and be successful with your real estate plans.
More Market Updates
For a month-to-month look at Calgary's residential market over the past three years, check out our Calgary Real Estate Market Updates today.
Questions About Calgary Real Estate?

As a top-producing REMAX real estate professional in Canada, I promise to provide only the best level of service and expertise the industry has to offer.
Call me anytime at 403-370-4180 or message me below; I am looking forward to your call!

[gravityform id="35" title="false" description="false"]