Calgary Real Estate Market Update July 2017
August 1, 2017
By Cody Battershill
Calgary Real Estate Market Update for July 2017
- Housing Recovery Sees Modest Price Gains -
While sales activity dropped in July 2017 year-over-year, year-to-date sales were up 9 percent compared to 2016 with 11,957 units sold. July 2017 saw 1,637 total sales which was 6 percent lower than levels recorded the year before.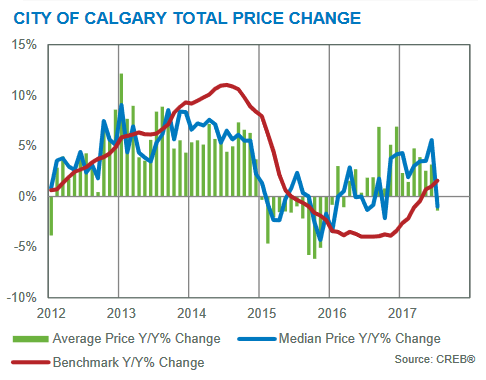 So far, sales activity in Calgary's residential market has exceeded expectations for 2017. Many people have delayed their decisions to buy real estate until signs of economic recovery were apparent. However, much patience will be needed until a full recovery ensues; currently there's lots of product on the market which doesn't create a sense of urgency for potential buyers to make a move.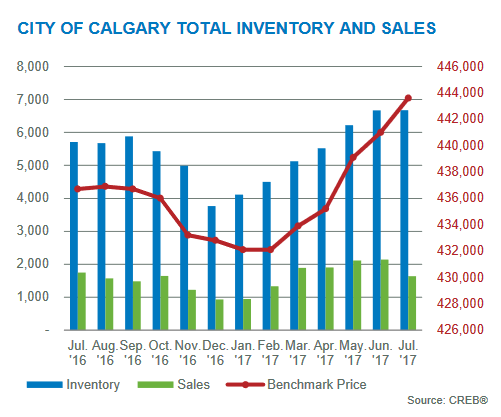 The number of new listings entering the market overshadowed sales activity, causing further inventory gains. With 6,675 available units on the market, months of supply city-wide increased to four months which is 17 percent higher year-over-year, but still lower than those levels in July of 2008.
July 2017 Real Estate Market Facts & Statistics
City-wide prices improved over June and year-over-year, although remain 4 percent lower than monthly highs

Year-to-date benchmark prices remain 0.44 percent lower compared to the same time frame last year

$266,200 apartment benchmark price, 12 percent lower than peak levels and 3 percent lower year-over-year

Detached sector has seen improvement in supply to sales, supporting price recovery in some areas

$512,100 city-wide unadjusted detached benchmark price, slightly above June and 2 percent higher year-over-year - but lower than previous highs

Product in the lower price ranges have encouraged sales growth year-to-date. At 1,488 units, year to-date sales have grown nearly 13 percent

Year-to-date, benchmark prices for the lower price ranges remain 3 percent lower compared to the same time frame in 2016 while monthly figures remained 7 percent lower than recent highs

Sourced from the Calgary Real Estate Board (CREB®)
It's important to remember that not all sectors of Calgary's residential market are experiencing as much price recovery as others. For example, detached home prices in the west end of the city have returned to pre-recession levels while the apartment sector in the north and south sectors have been hit the hardest due to several new condominium projects and increased inventory as a result.
Getting the advice of an experienced real estate agent before buying and / or selling your property is ideal to keep you up to date and informed on when the best time is to make your next move.
More Market Updates
See our complete list of Calgary Real Estate Market Updates for more trends, sales and statistics sourced from the CREB® today.
Questions About Calgary Real Estate?

As a highly-experienced REMAX real estate agent and REALTOR® in Calgary, I promise only the best level of service and advice the industry has to offer while taking care of all your real estate needs.
Call me anytime at 403-370-4180 or message me below for a prompt response. I am looking forward to helping you accomplish your real estate plans!

[gravityform id="35" title="false" description="false"]