Calgary Real Estate Market Update July 2018
August 2, 2018
By Cody Battershill
Calgary Real Estate Market Update for July 2018
- Patience is a must in today's residential market recovery –
Continuing struggles in Calgary's job market combined with yet another increase for interest rates by the federal government has made home buyers more hesitant to make a move.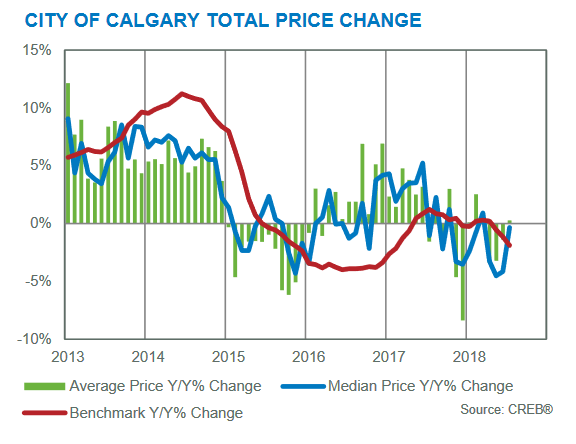 Rising interest rates, a slow economic recovery and high supply levels have all kept the market far into buyers' territory. While some parts of the economy are improving, the job market's struggle with consistently high unemployment rates and easing of total employment levels over the past few months are apparent.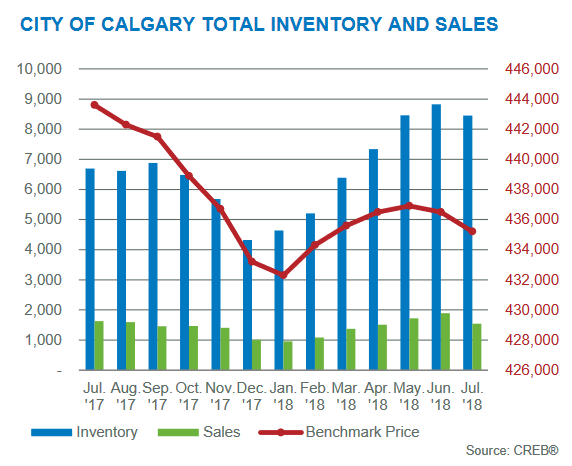 Citywide inventory levels for all property types have risen in July 2018. For the detached market, supply sits at about five months. In the apartment sector, it's even more – at 7 months. These elevated levels are putting downward pressure on benchmark prices across the board.
July 2018 Real Estate Market Facts & Statistics
1,547 total units sold, 5 percent lower year-over-year

2,964 new listings entering the market, increasing inventories to a total of 8,450 units

$435,200 average citywide benchmark price, 0.30 percent lower than June and nearly 2 percent lower year-over-year
July 2018: Attached Real Estate Market Facts & Statistics
2,225 total attached sales year-to-date, 15 percent lower year-over-year

An increase in new listings pushed attached inventory levels and months of supply higher year-over-year

Average semi-detached benchmark prices have dropped nearly 1 percent year-to-date

Benchmark price declines vary by sector: the northwest saw a 3 percent drop while the south saw a 6 percent drop
July 2018: Detached Real Estate Market Facts & Statistics
$501,300 detached benchmark price, 0.4 percent lower than in June and nearly 2 percent lower year-over-year

Increasing supply levels continue to get worse in all districts year-over-year. However, conditions today remain better than those in 2016 for the West and City Centre sectors.

Year-to-date, City Centre and West sectors have recorded higher than average benchmark prices compared to last year and continue to move towards recovery

$733,329 benchmark price for the West sector, comparable to previous highs

$693,243 benchmark price for the City Centre, 3 percent lower compared to previous highs
July 2018: Apartment Real Estate Market Facts & Statistics
$257,343 year-to-date apartment benchmark price average, 3 percent lower year-over-year and 14 percent lower versus highs seen in 2014

Easing new listings are preventing further gains in inventory levels

Citywide inventory levels remain slightly lower year-over-year. Northeast, East, North, Northwest, South and East inventories dropped slightly year-over-year
Ask a REALTOR®
As seen above, not all of Calgary's residential sectors behave congruently, which is why it's so important to get the best advice when making a move in today's market.

An experienced REALTOR® can help you make an accurate estimation of how much to sell your home for, or on the flipside how much is too much when making an offer.

It's best to do research on different REALTORS® and see which would be best for your transaction. A few questions you'll want to ask them in an interview can be seen here at our Calgary REALTOR® Interview Guide.

As a top-producing REMAX real estate agent in Canada (2013, 2014, 2015h) and experienced REALTOR® in Calgary, I would love the opportunity to interview for your next transaction and explain what I can do for you! Call, text or email me anytime and I will be happy to assist you!
Calgary Housing Market Updates
See our complete list of month-to-month Calgary Real Estate Market Updates for many years of market trends, statistics and analysis all sourced from the Calgary Real Estate Board (CREB®) today!
Questions about Calgary Real Estate?

As a highly experienced REALTOR® and top-producing REMAX real estate agent in Calgary, I guarantee you the best service, advice and representation while making sure you have all the information needed to make the best decisions.
Call anytime at 403-370-4180 or send a message below for a quick, if not immediate response during most hours of the day. I am looking forward to helping you accomplish your real estate plans! 

[gravityform id="35" title="false" description="false"]