Calgary Real Estate Market Update June 2014
July 2, 2014
By Cody Battershill
Calgary Real Estate Market Update June 2014
- Condo / apartment benchmark price beats previous record -
Residential sales and listings activity in June 2014 have both increased by double-digits on a year over year basis. Considering that in June 2013 the floods greatly affected the local housing market, the increases come as no surprise.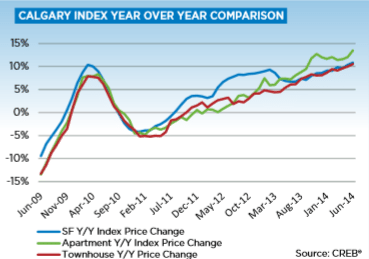 The natural disaster forced tens of thousands of Calgarians from their homes, shutdown local businesses and even all of downtown.
It's no wonder that people weren't feeling like purchasing homes later on in June of 2013.
Regardless of the tragedy now over a year ago, Calgary's residential sector continues to show high levels of activity with 2,670 units sold in June, an 18 percent increase over the average of the past decade.
Furthermore, residential sales over the first half of 2014 totalled 13,929 units, up from 12,257 units over the same time frame in 2013.
Calgary Real Estate Market Single-Family Homes
1,769 total units sold, 10 percent higher than the average over the past decade

$509,700 single-family benchmark price, nearly an 11 percent gain year over year and 1 percent gain over last month

Increase in single-family sales partly due to elevated levels of new listings

1,359 units listed higher than $500,000, up from 954 in June 2013
Calgary Real Estate Market Condominiums / Townhomes
2,494 total sales for the first six months of the year, up from 2,027 over the same time frame in 2013

New listings growth has surpassed sales activity, bumping up inventory levels and putting the condo / apartment market into more balanced territory.

$299,700 apartment benchmark price, a 13.5 percent gain year over year and a new record high in the sector

$326,000 townhome benchmark price, still lower than previous records
June 2014 was the first time that inventory levels surpassed the long-term average since 2010 with 3,814 new listings.
In addition, now that condominium prices have recovered to peak levels seen in 2007, we can expect more people to sell and increase the number of listings on the market.

*Sourced from CREB
More Market Updates
For an in-depth look at the local real estate market, be sure to check out our Calgary Real Estate Market Updates today.
Questions about Calgary Real Estate?

As a top-producing REMAX Real Estate Agent, I will provide you with only the best level of service and expertise the industry has to offer.
Call me anytime at 403-370-4180 or message me below and let's get you started towards accomplishing your real estate goals![gravityform id="35" name="Here to Help" title="false" description="false"]