Calgary Real Estate Market Update June 2016
July 4, 2016
By Cody Battershill
Calgary Real Estate Market Update for June 2016
- home prices experience further benchmark losses –
Calgary's residential sector has continued to see benchmark prices slipping lower and lower, but not at the rate at which many had predicted. See last month's Calgary Real Estate Market Update (May 2016) here.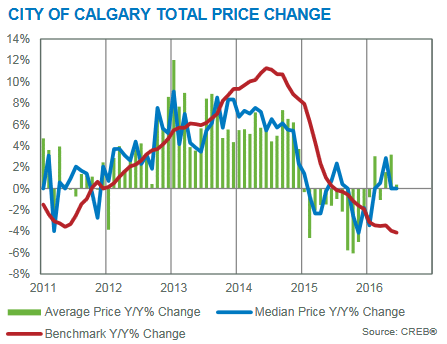 This is partly related to the fact that June of 2016 sales for detached and semi-detached sectors when compared to new listings and current inventory began returning to a more balanced state.
The detached market's move back towards balance has helped prevent prices from decreasing at a rate seen in the first half of the year.
As a matter of fact, June of 2016 was the first time in eight months that detached prices saw any increase (0.4 percent gain).
However, as Calgary's residential market continues to face adversity related to current economic conditions, it is likely that home prices for all sectors will also.
June 2016 Real Estate Market Facts & Statistics
2,028 total sales, a seven percent decrease year-over-year

5,973 total units in inventory, 16 percent higher on a year-over-year basis

Attached and apartment sectors recorded gains in inventory of around 30 percent year-over-year

Detached sector recorded a 5 percent increase in inventory on a year-over-year basis

$502,400 detached benchmark price, 0.4 percent higher than in May 2016, but 3.4 percent lower year-over-year

Detached sales growth in downtown, west and northwest areas

0.1 percent decrease in apartment benchmark price over last month, bringing the total year-to-date drop to 5.3 percent over the same time frame in 2015

0.3 percent decrease in attached benchmark price compared to last month due to more substantial price drops in the row style of attached product

21 percent year-to-date decline in sales for apartment sector

14 percent year-to-date decline in sales for row sector

6.4 percent year-to-date decline in detached sector

4.4 percent year-to-date decline in semi-detached sector

Price declines highest in downtown, northwest and west areas
The changes in benchmark prices seen across all sectors of Calgary's residential market over the past several months has allowed buyers from all walks of life to purchase properties that may have otherwise been previously unattainable. This is especially true for home owners who have stable finances and a reasonable amount of equity in their current homes.
With nearly 6,000 units of inventory on the market, Calgary's real estate market remains well into buyers' territory and will likely remain so for the rest of the year.
More Market Updates
See our complete list of Calgary Real Estate Market Updates for statistics, trends and analysis on a month-to-month basis today.
Questions about Calgary Real Estate?

As a top-producing REMAX real estate agent with over a decade of experience, I promise to deliver only the best level of service and advice the industry has to offer.
Call me anytime at 403-370-4180 or message me below for a prompt response. I am looking forward to your call!

[gravityform id="35" title="false" description="false"]