Calgary Real Estate Market Update June 2017
July 1, 2017
By Cody Battershill
Calgary Real Estate Market Update for June 2017
- Indicators of a gradual recovery seen in June –
Both sales activity and new listings saw moderate improvements in June of 2017, although the increase in demand hasn't kept up with the number of new listings entering the market. This has caused inventory levels to increase to nearly 6,700 units, approximately 11 percent higher on a year-over-year basis.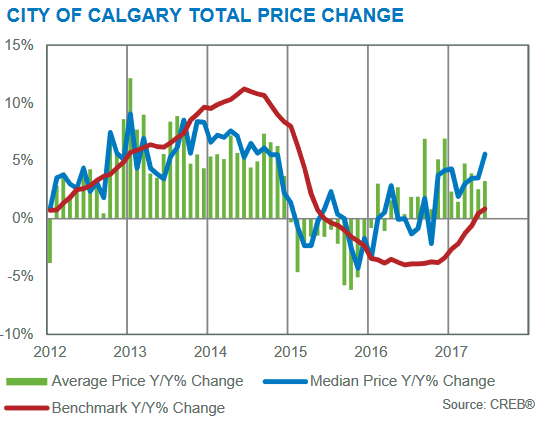 Despite the change in inventory levels, activity levels in the second quarter of 2017 have demonstrated improved market stability and between supply and demand. The benchmark price city-wide in June of 2017 was $441,500, a 1 percent gain year-over-year and half a percent higher than in the previous month.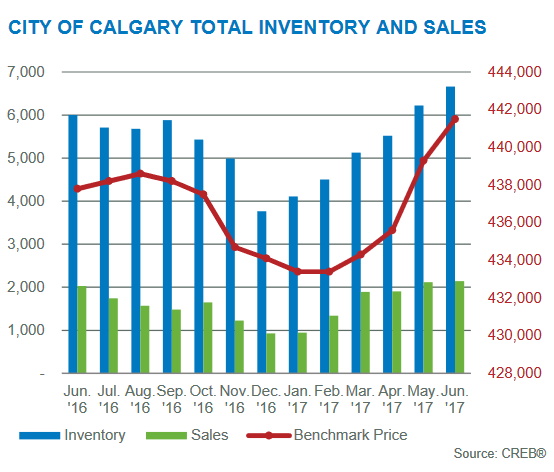 Modest city-wide benchmark price gains and improved sales activity remain consistent with the predictions of many economists and industry experts – that the housing market will make a gradual recovery from the last economic downturn.
---
June 2017 Real Estate Market Facts & Statistics 
10,322 total sales year-to-date, 12 percent higher over the same time-frame in 2016

3,224 total detached homes in inventory for first half of 2017, 16 percent lower on a year-over-year basis

1,385 total detached home sales for first half of 2017, 13 percent more activity on a year-over-year basis

$509,400 detached unadjusted benchmark price, 0.5 percent higher over May and 1.7 percent higher year-over-year, but 2.5 percent lower than previous highs

2.3 months-of-supply in detached sector

Detached growth strongest in south, east, west and city centre, although sales in most parts of the city remain below long-term averages

$265,800 apartment unadjusted benchmark price, 4 percent lower year-over-year and 11 percent lower than most recent highs

Apartment inventories are approximately 7 percent higher year-to-date compared with the same time frame last year

Apartment months-of-supply hovering above 6.5 months, possibly bringing further declines in benchmark prices

Price adjustments in attached product vary by type of property; Row-style properties remain about 6 percent lower year-over-year

Semi-detached properties have gained nearly 5 percent year-to-date on a year-over-year basis
Both months of supply and sales-to-new listings ratio have trended downward, indicating more pricing stability in Calgary's residential market throughout 2017. Many home buyers waited for home prices to drop over the past few years before making a move, and now, its home sellers that are patiently holding off until benchmark prices come back up.
Going forward, recent growth seen in new listings will provide more choice for buyers, especially in the detached home market where there's the most stability out of any residential sector in the city.
More Market Updates
See our complete list of Calgary Real Estate Market Updates for month-to-month statistics, trends and analysis sourced from the Calgary Real Estate Board today.
Questions about Calgary Real Estate?

As a top-producing REMAX real estate agent in Canada (2013, 2014, 2015h) with over a decade of experience, I promise to provide only the best level of service and advice the industry has to offer while taking care of all your real estate needs.
Call me anytime at 403-370-4180 or message me below for a prompt response. I am looking forward to helping you accomplish your real estate plans! 

[gravityform id="35" title="false" description="false"]