Calgary Real Estate Market Update June 2018
July 3, 2018
By Cody Battershill
Calgary Real Estate Market Update for June 2018
- Weak sales continue in Calgary's residential market –
Alberta and Saskatchewan, home to many municipalities centered around energy-related industries, have continued to see their residential home markets struggle throughout June 2018. This has resulted in further price declines for most product.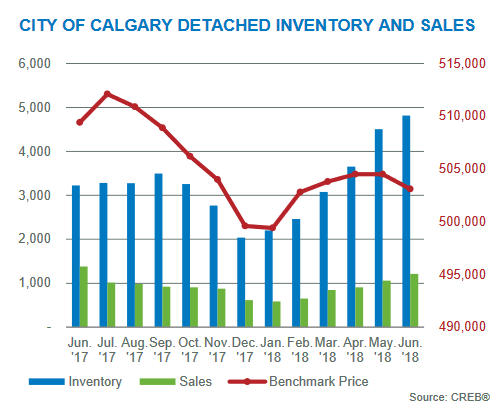 In addition to a slow economic recovery, recent changes to mortgage rules and regulations by the federal government have stifled demand and prices across some of these municipalities.
Despite the economy no longer being in official "recession" status, continually high rates of unemployment, concerns over long-term growth, rising mortgage interest rates and stricter regulations are all playing their part.
While the number of new listings is starting to slow down for some segments, it has not been enough to prevent an oversupplied housing market that's far into buyers' territory.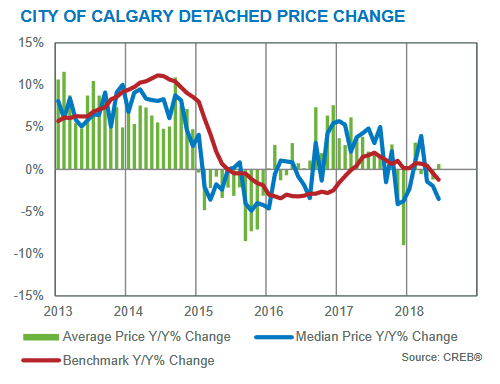 When you're making a move in today's market, it's extremely important to make a fully-informed decision for the type of property and community you're interested in. Get all the facts first! A mortgage pre-approval is also imperative to making sure you have the buying power when it's time to make an offer.
June 2018 Real Estate Market Facts & Statistics
1,896 total units sold, 11 percent lower year-over-year and 12 percent lower versus long-term averages

Further inventory gains have led to 4.7 months of supply and downward pressure on benchmark prices

$436,500 city-wide benchmark price, 1.13 percent lower year-over-year and slightly lower than last month

4,187 total inventory units as of last month

Inventory for homes below the $500,000 price range remain well below peak levels

Approximately 60 percent of sales and 54 percent of inventory are detached properties

Detached sales dropped while new listings rose, keeping inventory levels high

$504,033 detached benchmark price for the second quarter, just above the first quarter, but 0.41 percent lower on a year-over-year basis

1,396 total apartment sales in the first half of 2018, 9 percent lower year-over-year and 24 percent lower compared to long-term averages

As of June, there were 1,872 total apartment units in inventory with about 6.8 months of supply for the second quarter

$419,000 semi-detached benchmark price in the second quarter of 2018, similar to the first quarter but about 2 percent lower year-over-year

$301,833 row home benchmark price in the second quarter of 2018, about 2 percent higher than the first quarter and 3 percent higher year-over-year

Semi-detached home prices remain just 2 percent below quarterly highs while the row sector remains 8 percent lower quarterly highs
Ask a REALTOR®
As mentioned above, it's crucial you get expert advice when making a move in today's residential market because of the ever-changing landscape of segments. For example, benchmark price gains or declines will not be congruent through all sectors, in addition to increasing or decreasing inventory levels.

Contacting an experienced REALTOR®, one who can inform you of all these differences and help guide you towards your real estate goals, is the best move you can make. This is a solid first step to ensuring you have all the facts necessary to make the best and most informed decisions!

You may or may not have a REALTOR® in mind already. If not, it's a good idea to begin looking for a professional who has experience in the type of product and / or community you're interested in. By acquiring his or her services, you'll know that you're getting only the best advice throughout your next transaction and hopefully will keep some more money in your pocket as a result!

As a top-producing REMAX real estate agent in Canada (2013, 2014, 2015h) and experienced REALTOR® in Calgary, I would love the opportunity to help guide you through your next property transaction while educating you on everything you need to know about the product / community you're interested in. Call, text or email me anytime and I'll be happy to assist you!
Calgary Housing Market Updates
See our list of month-to-month Calgary Real Estate Market Updates and stay fresh with all current market trends, statistics and analysis sourced from the Calgary Real Estate Board (CREB®) today!
Questions about Calgary Real Estate?

As a highly experienced real estate agent and REALTOR® in Calgary, I promise to provide the best service, advice and representation to you while taking care of all the details for you throughout your next transaction.
Call me anytime at 403-370-4180 or send a message using the form below for a quick, if not immediate response. I am looking forward to helping you accomplish your real estate plans! 

[gravityform id="35" title="false" description="false"]