Calgary Real Estate Market Update March 2015
April 1, 2015
By Cody Battershill
Calgary Real Estate Market Update for March 2015
- Inventory levels having an effect on housing prices –
An increasing amount of inventory in Calgary's residential real estate market has caused a slight dip of 0.44 percent in overall benchmark prices compared to the previous month, leveling off at $454,300 in March of 2015.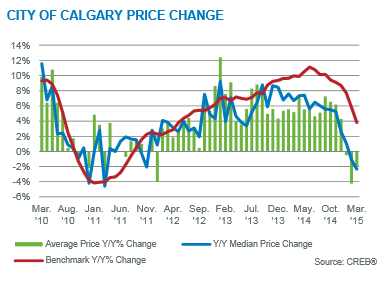 According to the Calgary Real Estate Board (CREB®), the first quarter of 2015 also saw a slight dip in typical home prices – at 0.59 percent – compared to the last quarter of 2014. In addition, months of supply was approximately four for the quarter, while the new listings / sales ratio also decreased to just over 40 percent.
This is a significant change for Calgary's residential sector. In the first quarter of 2014, the market was experiencing low inventory levels and substantial price growth.
With high inventory levels and lower sales volumes, it shouldn't be of any surprise that prices have experienced a small drop. However, it is important to note that these conditions haven't entirely undone the substantial price gains seen throughout 2014. Future short-term price growth will be largely dependent on how much inventory levels change in the coming months.
On an uplifting note, the recent pullback of new listings in March of 2015 has helped decrease the rise in inventory levels which has helped with absorption rates and slowed the market from going even further into buyers territory.
Calgary Real Estate Market Update
Condo / apartment sector recorded the highest amount of inventory levels, resulting in larger reduction of prices compared to other sectors

1.46 percent decline in condo / apartment quarterly benchmark price year-over-year

0.4 percent decline in the detached & attached quarterly benchmark price year-over-year

3,843 total sales in the first quarter of 2015

30 percent decrease year-over-year in residential sales activity

Sales levels remain well under Calgary's 10-year averages

878 residential units are priced under $300,000 in the city, 99 percent of which are condominiums or attached units.

A majority of inventory levels range between the $300,000 and $600,000 range, with 56 percent of that being detached single-family homes.

1,933 units in inventory are priced over the $600,000 range, more than 72 percent of which are single-family homes.
More Market Updates
Find a full list of month-to-month Calgary Real Estate Market Updates today, and see long-term sales trends, analysis and much, much more now!
Questions about Calgary Real Estate?

As a top-producing REMAX Real Estate Agent with over a decade of experience, I would love to share my intimate knowledge of the local market with you and help you accomplish any real estate goals you might have.
Call me anytime at 403-370-4180 or message me below; I am looking forward to your call!

[gravityform id="35" name="Here to Help" title="false" description="false"]