Calgary Real Estate Market Update March 2018
April 1, 2018
By Cody Battershill
Calgary Real Estate Market Update for March 2018
- Home prices remain similar year-over-year –
As expected, home sales in Calgary's market have slowed in the first quarter of 2018. Many point towards the strong sales activity that ended 2017 combined with changes to mortgage rates and terms as the main cause.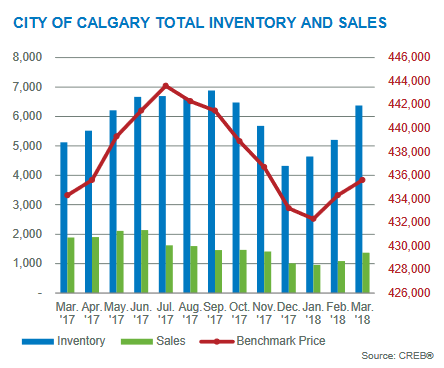 A total of 3,423 units were sold in the first quarter, 18 percent lower year-over-year and 24 percent lower compared to long-term averages. While Alberta's economy slowly improves, the hype for such hasn't been able to surpass the scare of higher mortgage rates and conditions for buyers just yet.
Nearing are the second and third quarters which are the most active throughout the year in terms of sales activity. We can expect to see more price fluctuations, although the improving economy should help prevent benchmarks from slipping too far downwards.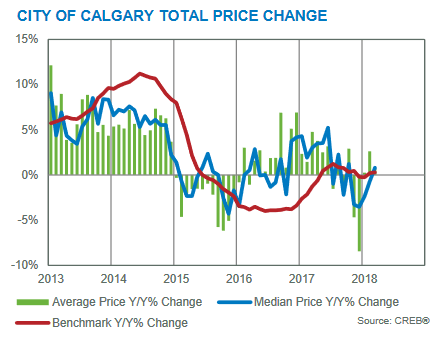 While benchmark prices have dropped last quarter, modest gains in the detached market helped to offset declines in the apartment sector. This left the overall benchmark price year-over-year relatively unchanged for March of 2018.
March 2018 Real Estate Market Facts & Statistics
3,423 total units sold, 18 percent lower year-over-year and 24 percent lower versus long-term averages

City-wide benchmark price of $502,000 for detached homes in the first quarter of 2018, slightly lower than that in the fourth quarter of 2017 but similar on a year-over-year basis

Detached benchmark price of $503,800 in March, 1 percent higher than lows recorded during the recession and 3.6 percent lower than pre-recession highs

Detached prices stable in the south and southeast districts. In the city centre, prices improved in the first quarter year-over-year

Detached inventory levels in first quarter of 2018 were low compared to long-term averages

A total of 2,573 units in detached inventory during the first quarter, 10 percent lower than the first quarter averages seen in 2016 and 2017

Condo market continues to battle high inventory despite easing of new listings, impacting prices

Condo benchmark price of $256,567 in the first quarter, 3 percent lower year-over-year and 1 percent lower than the fourth quarter of 2017

Monthly apartment prices remain around 14 percent lower than highs seen in 2014

Attached benchmark price averaged $328,533 in the first quarter of 2018, about the same on a year-over-year comparison

On a year-over-year basis, attached home prices have drop up to 3.7 percent in some districts while gaining 4 percent in others

Attached price improvements seen in downtown, northwest and southeast districts

Attached price decreases seen in north, northeast, west, south and east districts

Semi-detached prices remain relatively stable thanks to new developments in the downtown areas

Row prices dropped slightly in the first quarter of 2018 year-over-year as well as compared to the fourth quarter of 2017
Ask a REALTOR®
Calgary's residential market is made up of many different segments which are always experiencing individual dynamic change. For example, high inventory levels seen in one sector may not apply to another; therefore, it's always best you talk to someone who knows the ins and outs of the residential market before making a move in real estate.

Talking to a licensed REALTOR® agent is a great place to start! Make sure to seek out an agent who specializes in the product and / or community you are considering. You deserve only the best service, advice and representation throughout your transaction – don't settle for anything less!

Call me anytime about questions you have on Calgary's residential market. As an experienced REALTOR®, I am available to help guide you through today's ever-changing housing market and provide expert advice 100% free, without obligation!
Calgary Home Market Updates
See our month-to-month stats, trends and analysis at Calgary Real Estate Market Updates dating back several years today!
Questions about Calgary's Housing Market?

As a highly experienced REMAX professional and REALTOR® in Calgary, I promise to provide only the best service, advice and representation while taking care of all your real estate needs.
Call anytime at 403-370-4180 or message me below for a quick response. I am looking forward to helping you accomplish your real estate plans! 

[gravityform id="35" title="false" description="false"]