Calgary Real Estate Market Update March 2019
April 1, 2019
By Cody Battershill
Calgary Real Estate Market Update for March 2019
- Oversupply & buyers market continue –
City-wide sales slouched in March of 2019 on a year-over-year basis despite improved activity in lower price ranges. First-quarter sales in the Calgary totalled 3,108 units, about 9 per cent lower versus last year and a whopping 28 per cent below long-term averages.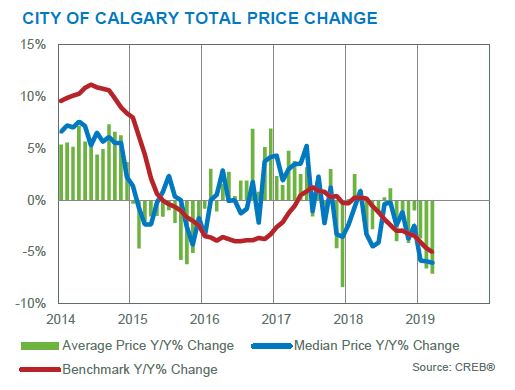 Both slow sales activity and dropping benchmark prices are taking their toll on new listings. For the second straight month, new listings eased on both a year-over-year and long-term basis. However, the amount of inventory still grew.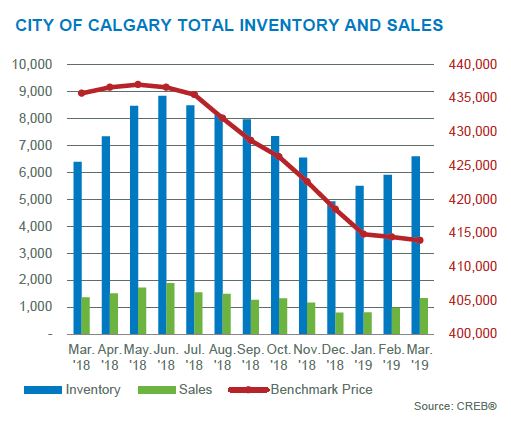 With 6,595 total units in inventory, the months of supply dropped to five months. While this is better when compared to the last several months, it still means that Calgary's residential market is oversupplied versus the long-term trends seen in March.
As a result of oversupply, further price declines were seen this month. City-wide benchmark prices dropped to $413,900, slightly below levels recorded last month and about 5 per cent lower year-over-year.
March 2019 Real Estate Market Facts & Stats
$413,900 city-wide benchmark price, 5 per cent lower year-over-year and slightly lower versus February of 2019
Attached Homes
Slight increase in attached sales in March, but first-quarter sales remain 4 per cent lower versus 2018 and 16 per cent lower versus the long term
Year-to-date sales have dropped, although slight improvements were seen in the South and South East sectors
City-wide months of supply for attached homes in Calgary remain higher than usual
$391,000 attached benchmark price, about 6 per cent lower year-over-year and 0.4 per cent lower versus February of 2019
Detached Homes
Detached homes in the first-quarter saw a 9 per cent sales decline versus last year and 30 per cent lower than the long-term average
For detached homes under $500,000, sales activity improved city-wide
$475,800 detached benchmark price, easing 5.4 per cent versus last year
Inventories increased across the city, pushing months of supply to the highest level ever recorded for the month of March ever
Apartments
Resale condo sales fell by 14 per cent in March versus the year before
First-quarter sales totalled 464, 17 per cent lower versus last year
New listings eased this month versus the year before, impacting inventory. Total condo units in inventory was 1,488, about 12 per cent lower versus March of 2018.
Weak sales have helped edge down months of supply compared to that earlier in the year, however, supply still remains elevated on a year-over-year basis
City-wide apartment prices dropped by 0.7 per cent versus last month and 2.6 per cent versus last year. However, the North East and South East districts posted a modest year-over-year price gain.
Get Expert Advice from a REALTOR®
Calgary's real estate market is as dynamic as they come, especially with a struggling economy over the past few years. That's why it's highly recommended you seek advice and assistance from an experienced REALTOR® to help you with your next transaction.

Licensed REALTORS® are almost always full-time agents. As a result, they are more equipped with the knowledge, experience and skills to help you achieve your real estate goals in the best way possible.

Aren't too sure about which REALTOR® is right for you? Check out our Calgary REALTOR® Interview Guide today and be well on your way to finding the right agent for the job!

Or, you could just contact me! As a top-producing RE/MAX real estate agent in Canada (2013, 2014, 2015h) and on a consistent monthly basis in my office, I would love the opportunity to be your representative and help guide you towards a successful transaction.
Real Estate Market Updates
For more insight into the local real estate market, check out our month-to-month Calgary Real Estate Market Updates today!
Questions about Calgary's Real Estate Market?

Call or text me direct anytime or get in touch using the form below to discuss your plans today. I am looking forward to helping you accomplish your real estate goals!
[gravityform id="35" title="false" description="false"]