Calgary Real Estate Market Update May 2013
June 3, 2013
By Cody Battershill
Calgary Real Estate Market Update May 2013
May 2013 saw an increase of 7 percent in residential sales year over year with a total of 2,544 units sold, which can largely be contributed to the increase in demand for Calgary condominiums.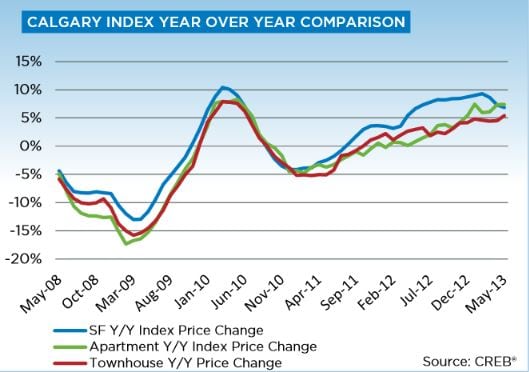 Sales growth is surpassing expectations but still remains below the double digit figures seen in 2012.
Coupled with a year over year increase in sales is a decrease in inventory levels that have dropped 17 percent in comparison to May 2012. Both of these factors are holding the market in sellers' territory and have cause higher than anticipated price growth.
However, these market conditions that are in favour of sellers are quite different than the last time this happened in Calgary. Homes are selling quicker and closer to the price they were listed and buyers have a wide selection to choose from.
Also in today's market, buyers are more cautious than they were a few years back.
Calgary Real Estate Single-Family Home Market
1,766 total sales, a 3 percent increase over May 2012

Sales growth has been impeded by lower inventory levels

Unadjusted benchmark price of $456,900, a 7 percent increase year over year and a 1 percent increase over April 2013.
Calgary Real Estate Condominium and Townhouse Market
1,672 year to date condominium sales, an increase of 10 percent over the same time frame in 2012

Less supply of resale condos in Calgary than there is demand, acting to increase prices

Condo apartments benchmark price of $263,600, a 7 percent increase over May 2012

Condo townhouse benchmark price of $292,100, a 5 percent increase over last year
A few reasons why Calgary's residential market has seen the improvements it has include employment growth, high inbound migration rates and tighter conditions in the rental market.
More Calgary Real Estate Market Updates
Calgary Real Estate Market Update April 2013
Questions about Calgary Real Estate?

Ask an experienced Calgary REMAX Realtor today! Call me direct at 403-370-4180 or message me below for a prompt response. I am looking forward to helping you accomplish your real estate goals!
[gravityform id="35" name="Here to Help" description="false"]