Calgary Real Estate Market Update May 2016
June 9, 2016
By Cody Battershill
Calgary Real Estate Market Update for May 2016
- housing inventories grow as sales activity remains slow –
New listings in Calgary's residential real estate market were on the rise once again in May of 2016 as sales activity cooled to 1,923 total units for the month. See last month's Calgary Real Estate Market Update for April 2016.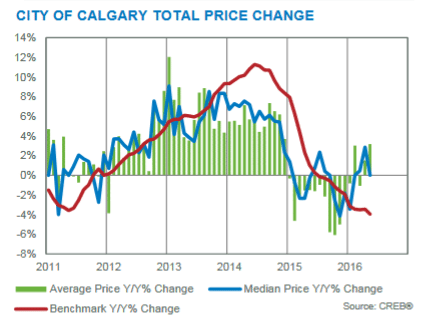 Every sector gained some inventory, although some, like the apartment and attached sectors, saw larger gains and currently represent half of the total inventories for all of Calgary's residential listings.
Condo sellers especially are having a hard time with current market conditions as they compete with better selection in the lower price ranges of the attached and detached sectors, as well as with new home builders looking to entice buyers with freebies and discounts.
While rising oil prices is being greeted with optimism by many, the labour market still remains weak and has continued to affect the city's housing market.
Now it's not just the oil and gas sector being hit by the economic downturn, but other industries also as wages are dropping and unemployment rates stay close to record high levels.
May 2016 Real Estate Market Facts & Statistics
6,148 total inventory units, an increase of 14 percent from the previous month

Apartment sales remain 22 percent lower than the 2,055 units sold at peak in May 2008

1,101 total year-to-date apartment sales, 20 percent decline compared to same time frame last year

Increase in new apartment listings pushes supply levels close to 6 months

Apartment benchmark prices dropping at a higher rate than attached and detached sectors

$278,000 apartment benchmark price, a year-over-year decline of 5.6 percent

$332,100 detached benchmark price, a year-over-year decline of 4.3 percent

7 percent decline in year-to-date detached sales from slow sales in NE, N, S and SE sectors

$500,500 attached benchmark price, a year-over-year decline of 3.4 percent
More Market Updates
See our Calgary Real Estate Market Updates for month-to-month sales, trends and analyses' on YYC's residential sector – and get the best advice today!
Questions About Calgary Real Estate?

Calgary's residential market is always changing as it is affected by a variety of social, economic and political factors. As a highly experienced REMAX real estate professional, I promise to provide you with only the best service, advice and expertise the industry has to offer.
Call me anytime at 403-370-4180 or message me below. I am looking forward to helping you accomplish your real estate plans!

[gravityform id="35" title="false" description="false"]