Calgary Real Estate Market Update November 2017
December 4, 2017
By Cody Battershill
Calgary Real Estate Market Update November 2017
- Mid-Fall characterized by increase in sales activity –
Calgary's residential real estate market saw a spur of activity this November with increased sales, especially in the lower price ranges. A total of 1,411 units came in at 15 percent higher on a year-over-year basis and is comparable to long-term trends seen for the month. This is also up on a month-to-month basis.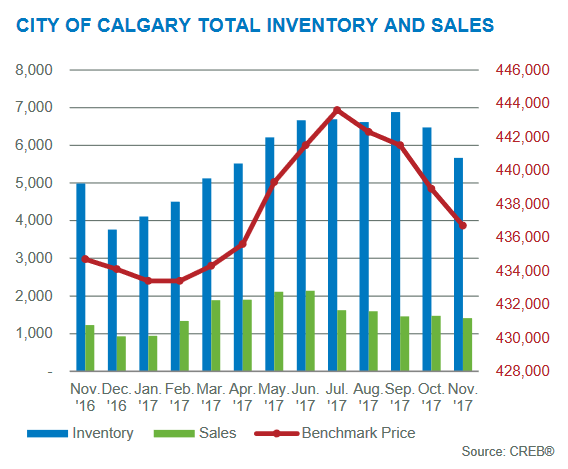 While each housing sector saw improvements in sales, product underneath the $500,000 range experienced the most profound increase. Pending changes to mortgage rules and improved confidence in the economy are two likely culprits of Novembers performance.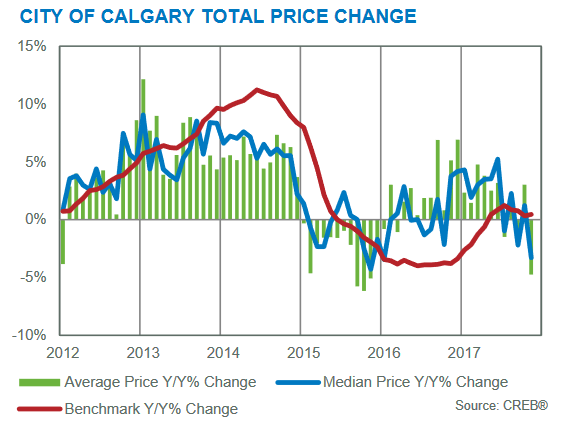 The detached sector saw the largest gains in sales activity in the $300,000 to $400,000 price range while the apartment sector did the same for product below $300,000.
November 2017 Real Estate Market Facts & Statistics
$436,700 city-wide benchmark price, 0.5 percent lower month-to-month but 0.46 percent higher year-over-year

11,220 year-to-date detached sales, 5.5 percent higher over the same time frame in 2016

Detached sales have improved in all districts of the city, save the Northeast

High inventory levels have been impacting detached sector price recovery

IN attached segment, semi-detached has outperformed row housing in terms of price appreciation. However, they sit at 3.3 percent and 7.9 percent, respectively, below recent highs.

$258,300 city-wide apartment benchmark price, 1.3 percent lower month-to-month and 14 percent lower compared to high levels seen in 2014

Apartment inventory levels continue to rise faster than sales activity, putting further downward pressure on condo prices
The increase in sales activity relative to new listings improved, helping to ease any more rise to inventory levels while keeping months of supply relatively stagnant.
However, going forward the amount of inventory available is still large which is continuing to have an affect on benchmark prices for all sectors of Calgary's residential market.
Ask a REALTOR®
Tough economic times over the past few years in Alberta has led to drastic changes in Calgary's residential real estate market, some being much more substantial for certain sectors than others.

Such a dynamic market requires a broad understand of each sector individually; therefore, getting a 100% free, no-obligation consultation with an experienced REALTOR® when buying and or selling in today's market can be key to a successful transaction!

Don't be afraid to ask! I am available anytime to help guide you through today's market and provide advice on any questions or concerns you may have. Give me a call today!
More Market Updates
See our full list of Calgary Real Estate Market Updates for month-to-month sales statistics, trends and analysis sourced from the Calgary Real Estate Board (CREB®) today.
Questions about Calgary Real Estate?

As a top-producing REMAX real estate agent and REALTOR® in Calgary, I guarantee to provide you with only the best in service, advice and representation the industry has to offer while taking care of all your real estate needs.
Call me anytime at 403-370-4180 or message me below for a quick response. I am looking forward to helping you accomplish your real estate plans!

[gravityform id="35" title="false" description="false"]