Calgary Real Estate Market Update November 2018
December 3, 2018
By Cody Battershill
Calgary Real Estate Market Update November 2018
- Tough economic conditions affecting resale market –
Year-to-date, there was 15,349 total units sold, a 14 percent drop comparatively year-over-year and 20 percent below the decade long average. This continues the downward market trend seen in October 2018.
Challenges in the energy industry have taken their toll on consumer confidence this November. Combined with high unemployment rates and further increases in lending interest rates by the federal government, this has created a downward trend of ownership demand.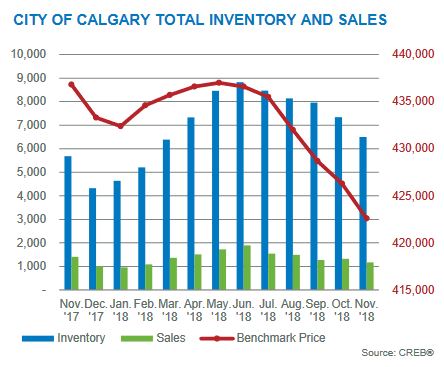 New listings dropped seven percent in November 2018 compared to the year before. While new listings helped prevent more gains in inventory, the number of units on the market – at 6,501 – remain well above those seen the previous year – at 5,683. This is 32 percent higher than the typical amount of listings seen on the market during the month of November.
Weak sales and high inventories have resulted in benchmark price declines and a continued buyers' market for Calgary's residential sector.
November 2018 Real Estate Market Facts & Statistics
$422,600 city-wide benchmark price, 1 percent lower month-to-month and 3 percent lower year-over-year
Sales have dropped in all price ranges, save those below $200,000, which has grown to represent almost 6 percent of all units sold
Largest sales activity drop in the $600,000 to $1 million range
Attached Homes
16 percent drop year-over-year and 14 percent drop versus long-term averages with 3,344 total attached units sold
$400,700 semi-detached benchmark price, 0.67 percent drop month-to-month and 3.3 percent drop year-over-year
$292,900 townhome row benchmark price, 0.2 percent lower month-to-month 3 percent lower on a year-over-year basis
Attached sales eased for most districts except the North East, where sales have remained relatively stable with slight improvements in townhome activity
Increasing number of new listings put downward pressure on prices
Detached Homes
679 city-wide detached homes sold in November, a 21 percent decrease in usual levels for the month
New listings dropped by 3 percent on a year-over-year basis as a result of declines in the South East, North East and North districts
$486,000 detached benchmark price, 1 percent lower month-to-month and 3 percent lower year-over-year
3,491 total detached inventories, 26 percent higher year-over-year
Months of supply sitting at 5 months, well above the typical levels for November
Detached prices have eased across all districts in November, with largest price declines in North and North East districts as a result of increased competition from new homes
Apartments
2,557 total units sold, 5 percent lower year-over-year and 21 percent lower versus the long-term average
City-centre condominiums represent 48 percent of the total sales in the city
New listings for condo resale market continue to drop, helping prevent further inventory gains and even resulting in inventory drops in the North East, East and South districts
Most districts continue to struggle with high inventories and low demand, resulting in price drops between a low of 2 percent in the City Centre and North West districts a high of 6 percent in the East district
Affordable products such as low-priced condos and townhomes are all the hype in today's market. Meanwhile, dropping benchmark prices have allowed some buyers to purchase a home which would have otherwise been unattainable a few years back.
This also means that home sellers need to be aware of what's selling in their community and for what price. This will help them to successfully sell their home in the challenging buyer's market of today.
*Sourced from the Calgary Real Estate Board (CREB®)
Ask a REALTOR®
Not sure if you should sell? Is it a good time to buy? These are important questions as a home buyer / seller looking to make a move in today's market.

The best thing you can do is to ask an experienced REALTOR®, one who knows your community and product well. This will help ensure you're on track with your real estate goals and move towards a successful transaction!

Aren't too sure which real estate agent to use? See our complete Calgary REALTOR® Interview Guide today. Also see:
Real Estate Market Updates
See our complete list of Calgary Residential Market Updates for month-to-month analysis today!
Questions about Calgary Real Estate?

Don't settle for anything less than the best for your next transaction and contact an experienced REMAX Real Estate Agent and REALTOR® today! I will help guide you every step of the way through your next transaction while making sure you have all the information to make the best decisions.
Call me direct at 403-370-4180 or send a message below and I'll get back to you shortly, if not immediately. I am looking forward to helping you accomplish your real estate plans!

[gravityform id="35" title="false" description="false"]