Calgary Real Estate Market Update October 2015
November 4, 2015
By Cody Battershill
Calgary Real Estate Market Update for October 2015
- Residential prices decline for second straight month -
It may come as no surprise that sales activity in Calgary's residential market remained considerably lower than the average seen over the long-term in October of 2015 – about 16 percent lower to be precise.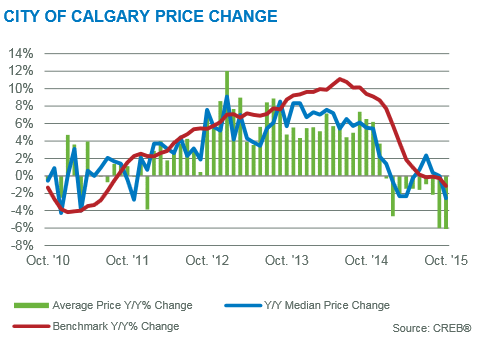 Many home owners chose to list their house this month resulting in an increase in inventory levels and further price reductions. Benchmark prices dropped by 0.7 percent compared to September of 2015, and 1.2 percent on a year-over-year basis to $453,100.

The largest drops were seen in the apartment sector with the benchmark price falling by 0.8 percent compared to September of 2015 and almost four percent on a year-over-year basis to $288,300.

Other factors include several new condominium projects, added vacancy in the rental market as well as increasing supply in the attached market. Since August, months of supply in the condominium / apartment sector has remained above four.
October 2015 Real Estate Market Facts & Statistics
1,421 units sold, a 33 percent decline year-over-year and while year-to-date sales over the same time frame in 2014 dropping by more than 26 percent

5,578 units in inventory, pushing overall supply up to nearly four months

60 percent of all sales in city in the detached housing market

More than half of detached sales this month were below $500,000
While there were considerable price adjustments seen in the luxury market, for homes below the $500,000 range market conditions remained relatively stable.
More Market Updates
For an in-depth look at Calgary's real estate market on a month-to-month basis, be sure to check out our Calgary Real Estate Market Updates today.
Questions About Calgary Real Estate?

As a REMAX professional with more than a decade of experience, I would love to answer any questions you have about current market conditions and help guide you towards accomplishing your property goals.
Call me anytime at 403-370-4180 or message me below; I am looking forward to your call!

[gravityform id="35" title="false" description="false"]