Calgary Real Estate Market Update October 2016
November 5, 2016
By Cody Battershill
Calgary Real Estate Market Update for October 2016
- Home sales activity on the rise -
It`s been two years since sales activity in the month of October has resembled normal levels. Total properties sold across all sectors was 1,644 units, a year-over-year increase of 16 percent. See our Calgary Real Estate Market Update for September 2016 here.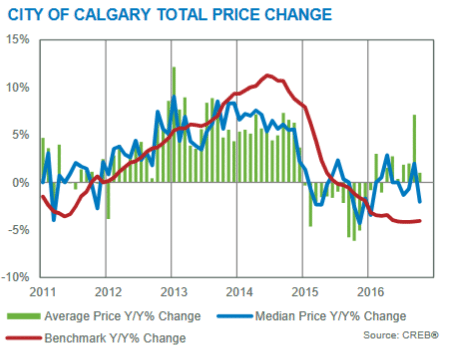 According to the Calgary Real Estate Board (CREB®), the increase in sales is most likely associated with a combination of inventory gains in lower price ranges, further seller price adjustments and the new mortgage rules introduced just a month ago.
However, with several factors currently playing into Calgary`s residential sector, the increase in demand may just be temporary and will need to continue to be monitored over the coming months.
The largest gain in sales activity was seen in the detached home sector with a year-over-year increase of 18 percent.
Meanwhile, detached homes listed between $300,000 and $400,000 saw the most substantial gain in sales. Both attached and apartment sales growth was mostly due to listings in the lower price points.
October 2016 Real Estate Market Facts & Statistics
Semi-detached sales remained similar to last year's levels

$438,000 city-wide unadjusted benchmark price, 0.34 percent lower than last month and 4 percent lower year-over-year

3.8 percent decrease in detached benchmark price since beginning of housing downturn

$502,200 detached benchmark price, 0.24 percent lower than last month and 3.2 percent lower year-over-year

9.4 percent decrease in apartment benchmark price since beginning of downturn

Benchmark prices will likely continue to slide for most segments despite increase in October sales activity

6.3 percent decrease in sales activity year-to-date compared with the same time frame last year
Despite the increase in sales activity year-over-year, year-to-date sales for all of Calgary`s residential sectors remain lower compared to 2015 and far below those over the long-term.
More Monthly Market Updates
See our complete list of Calgary Real Estate Market Updates for month-to-month sales trends, statistics and analysis all sourced from the CREB®.
Questions about Calgary Real Estate?

As a top-producing REMAX real estate agent in Canada (2013, 2014, 2015h) with well over a decade of experience, I promise to provide only the best level of service and advice the industry has to offer while discerning all your real estate needs.
Call me anytime at 403-370-4180 or message me below for a prompt response. I am looking forward to helping you accomplish your real estate plans!

[gravityform id="35" title="false" description="false"]