Calgary Real Estate Market Update October 2017
November 7, 2017
By Cody Battershill
Calgary Real Estate Market Update October 2017
- Year-over-year, prices remain similar, but ease in October –
Housing market trends in October of 2017 weren't far off from those seen during the previous months with rising inventories, easing sales and downward pressure on benchmark prices. A total of 1,467 sales and 6,463 units in inventory resulted in an overall months-of-supply of 4.4.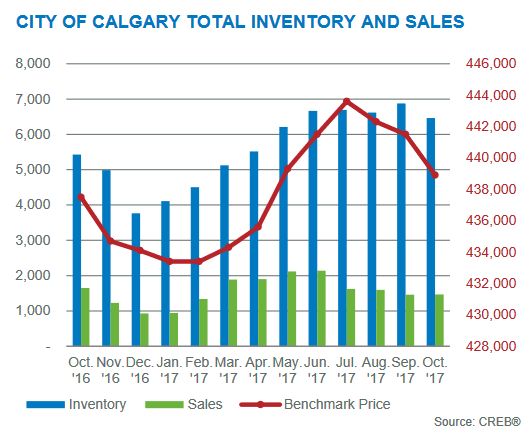 Elevated inventory levels for several consecutive months and decreased demand once again resulted in downward pressure on prices. The overall benchmark price dropped 0.6 percent below September of 2017, however, remained similar on a year-over-year basis.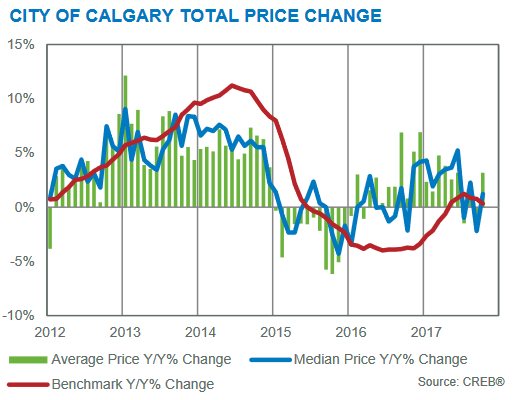 Predictions of a slow economic recovery are now on the table it seems, but It still will take some time for this to convert into increased sales activity in Calgary's residential market. Furthermore, challenges with lowered net migration levels, higher interest rates and changes to lending policy are predicted to take their own toll on housing sales.
October 2017 Real Estate Market Facts & Statistics
Resale inventory gains occurred in all segments of the residential market

The new home sector saw the highest amount of inventory gains

On average, detached prices throughout 2017 have improved in most parts of the city

Largest detached price gains seen in the west district, also known as the "Westside"

Detached segment saw largest increase in the $300,000 to $500,000 range – represents about 42 percent of all detached inventory

62 percent of city-wide inventory is priced below $500,000

Condominiums continued to see lots more supply than demand

0.8 percent benchmark price drop for apartment sector, down by 13 percent compared to high's recorded in 2014

Attached and detached benchmark prices remained relatively stable on a year-over-year comparison

Semi-detached segment continues to see best price improvement annually

$419,400 semi-detached benchmark price, 0.10 percent lower than September 2017 but three percent higher year-over-year
Ask a REALTOR®
Nearly every segment of Calgary's residential market has changed differently than the other during the latest economic downturn. When benchmark prices are slipping dramatically for one sector, they may be halted or slightly increasing for another.

That's why it's important for buyers and sellers to ask for help and acquire the services and advice of an expert real estate agent, one who knows Calgary's housing sector like the back of their hand. Also see:
More Market Updates
See our list of Calgary Real Estate Market Statistics for month-to-month sales statistics and trends from the Calgary Real Estate Board today.
Questions about Calgary Real Estate?

As a highly experienced REMAX real estate agent and REALTOR® in Calgary, I would love to share my intimate knowledge of the residential market with you and help you accomplish your real estate goals!
Call me anytime at 403-370-4180 or message me below for a prompt response. I am looking forward to getting in touch with you! 

[gravityform id="35" title="false" description="false"]