Calgary Real Estate Market Update October 2018
November 2, 2018
By Cody Battershill
Calgary Real Estate Market Update October 2018
- Oversupply weighs heavily on benchmarks –
Calgary's real estate market continues to see elevated inventory levels versus sales activity, reducing benchmark prices even further for all segments. This trend is like that seen in September. In October 2018, city-wide benchmark price totalled $426,300, the fifth straight month where it has decreased and a 2.9 percent drop year-over-year.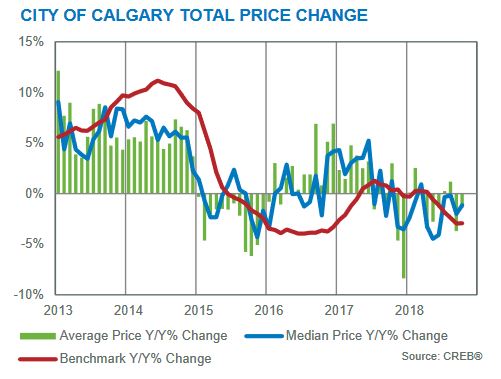 According to the Calgary Real Estate Board (CREB®), job growth in the city is a large concern as unemployment rates remain high above those typical for this time of year. Rising costs of ownership in addition to increasing interest rates by government are also contributing to a slow market.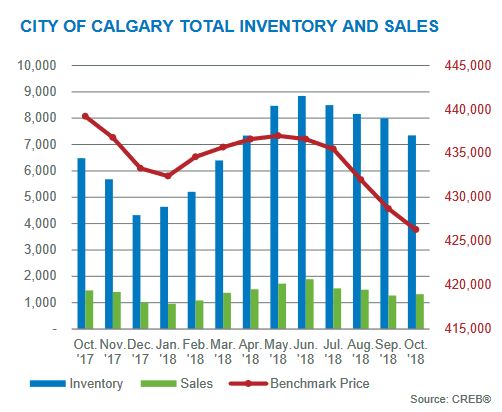 Sellers in today's market should be realistic of their expectations and be well informed of what's selling in their neighbourhoods and for how much to be able to price their home accordingly. Meanwhile, buyers have a wealth of options and should be able to find a good selection of well-priced homes in their selected category and price range.
October 2018 Real Estate Market Facts & Statistics
7,345 total units in inventory and 1,322 total units sold, resulting in 5.6 months of supply
Attached Homes
3,098 year-to-date sales, 15 percent lower versus the same time frame last year and 14 percent lower versus long-term averages
Despite easing of new listings, October inventories for attached homes are highest on level
Semi-detached and row sectors have been affected, with prices trending downward over the past five months
$403,400 semi-detached price, 1 percent lower versus last month and almost 3 percent lower year-over-year
$298,140 year-to-date row benchmark price, 2 percent lower year-over-year and 9 percent below previous record highs
Detached Homes
829 total detached units sold, an 8.6 percent decrease over the previous month and a year-to-date decline of 15 percent – the slowest rate seen since the late 90s.
The largest decline in sales occurred in the $600k to $1 million range, reflecting a dwindling demand from move-up buyers
New listing growth eased, preventing further inventory gains. However, detached homes inventories remain high which has led to further benchmark price losses
$490,200 detached benchmark price, lower versus September 2018 and 3 percent lower year-over-year
All of Calgary's districts saw declining detached home prices
Apartments
2,316 year-to-date apartment sales, about 7 percent lower on a year-over-year basis
New listings dropped 6 percent year-over-year, helping to slightly reduce inventory levels in the sector
8 percent drop in apartment benchmark prices on a year-to-date comparison with 2017
Prices remain approximately 14 percent lower than record highs seen in 2014
Hire a REALTOR®
Are you planning on making a move in today's real estate market? If so, it's critical you get expert advice from a REALTOR® who knows your product and community. This will help ensure you're on the right track and are 100% satisfied with your transaction!

Don't have a real estate agent in mind? See our Calgary REALTOR® Interview Guide for some good questions to ask an agent you're thinking of hiring.
Calgary Housing Market Updates
How has Calgary's residential market performed in the past? See our month-to-month Calgary Real Estate Market Updates for all the information you need!
Questions about Calgary Real Estate?

Don't settle for anything less than the best when buying or selling real estate in Calgary! Contact an experienced REMAX real estate agent and REALTOR® today! I will guide you step-by-step throughout your next transaction while making sure you have all the information needed to make the best decisions.
Call me anytime at 403-370-4180 or send a message below for a quick response. I am looking forward to helping you accomplish your real estate plans!

[gravityform id="35" title="false" description="false"]