Calgary Real Estate Market Update September 2016
October 5, 2016
By Cody Battershill
Calgary Real Estate Market Update for September 2016
- Prices for detached homes stabilize in low-activity market –
Calgary's detached home sector, a segment with the largest influence on the overall residential market in the city, began to show some signs of stability in September of 2016.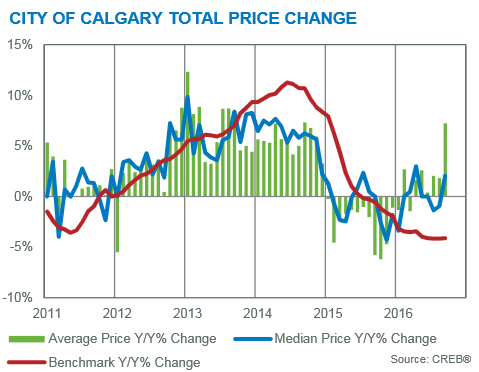 The detached benchmark price came in at $503,400 – 3.3 percent lower year-over-year – but has remained at this price level for two consecutive months. See our August 2016 Calgary Real Estate Market Update today.
Overall demand for real estate in Calgary is soft, especially in the apartment and attached sectors, but for now the detached segment is showing some signs of steadiness when it comes to prices.
Detached supply levels haven't increased as sharply as some analysts first predicted while price declines were also lower than originally thought.
Furthermore, the amount of new listings also eased on a year-over-year basis, helping push down inventory levels for the second straight month.
In general, many home sellers are continuing to adjust their price expectations while at the same time buyers are understanding that the market reactions in various segments are quite different.
Price declines aren't being seen entirely in all sectors of the market – as most would have originally predicted during such a time of economic uncertainty.
September 2016 Real Estate Market Facts & Statistics
5.80 percent average decline in benchmark prices for all sectors

14,072 year-to-date sales, 8.3 percent lower year-over-year and 20 percent lower compared to city's long term averages

5,877 total inventory units, 5 percent higher year-over-year mostly due to apartment / attached sectors

4 months of supply city-wide, ranging from a low of 3 months in detached to 8 months in apartment

8,835 total detached sales year-to-date, 5.2 percent lower than last year

Despite lower sales activity year-to-date, detached sales have improved in the City Centre, West and North West areas of Calgary

19 percent decrease in year-to-date apartment sales

18 percent increase of apartment inventories on average

$274,000 apartment benchmark price, 6.8 percent lower year-over-year and 0.1 percent lower than last month

Sales activity year-to-date declined for every sector and remains below city's 5 and 10 year averages

Resale apartments recorded large gains in inventory and decrease in sales

New apartment construction adding sharp competition to resale market, resulting in further price adjustments having to be made by condo sellers
Aren't sure if now is the time for your next real estate transaction? Consult an experienced Calgary real estate agent today and rely on their knowledge of the local market to help you along the way!
More Market Updates
See our complete list of Calgary Real Estate Market Updates for month-to-month sales trends, statistics and analysis today.

Buying a home or condo? Don't miss our Calgary Home Buyers Guide Tips.

Selling your place sometime soon? Prepare by checking out our Calgary Home Sellers Tips.
Questions about Calgary Real Estate?

As a top-producing REMAX real estate agent with well over a decade of experience in the local market, I promise to deliver only the best level of service and advice the industry has to offer while discerning all of your real estate needs.
Call me anytime at 403-370-4180 or message me below for a prompt response. I am looking forward to helping you accomplish your real estate plans! 

[gravityform id="35" title="false" description="false"]