Calgary Real Estate Market Update September 2017
October 2, 2017
By Cody Battershill
Calgary Real Estate Market Update for September 2017
-  Sales decrease while inventory increases, although overall sales still higher year-to-date compared to 2016 -
With strong sales activity in the first six months of the year, residential sales year-to-date in the City of Calgary remain 7 percent higher over the same time frame in 2016; however, these figures remain approximately 11 percent lower than long-term averages.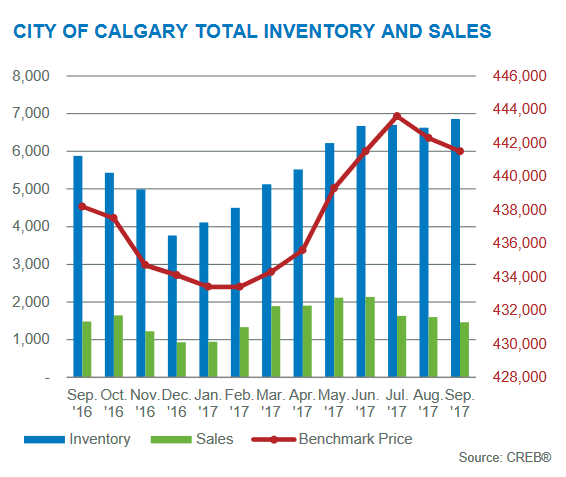 The problem with rising inventory and lower sales volumes will be a challenge for the market heading into the colder seasons – which usually are paired with less activity in all segments. A total of 6,861 units were in market inventory last month, with attached and apartment-style properties seeing the largest gains on record for September.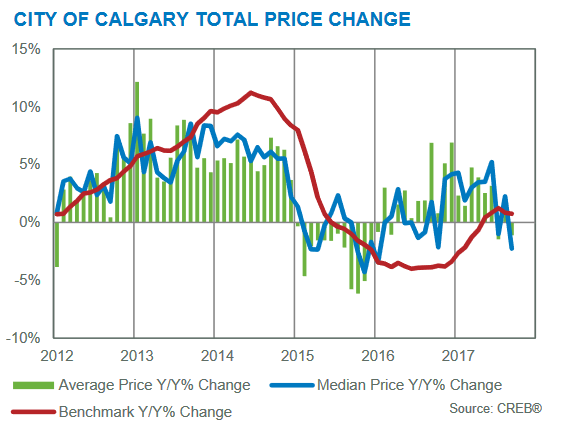 This rise has prevented further price recoveries, but should be expected speaking from a historical standpoint where housing benchmarks did not recover until further economic improvements were made.
September 2017 Real Estate Market Facts & Statistics 
3,266 total new listings in September, 10 percent higher on a year-over-year basis

$441,500 unadjusted benchmark price across all sectors, 0.2 percent lower than last month but 1 percent higher year-over-year

Detached home prices remain somewhat stable on a year-over-year basis

Condo benchmark prices remain 4 percent lower year-over-year and 12 percent lower than high's seen in 2014

North and Southeast sectors saw record-high inventory levels for the month of September due to new construction projects

East, West, South and Southeast areas of the city saw improvement in third-quarter sales year-over-year

Only the northeast, South and East districts have detached benchmark price levels that are lower year-over-year

Most city-wide inventory gains were in the attached $300K to $400K range

At $336,000, the row, attached benchmark price remains relatively unchanged for two straight months

Semi-detached product benchmark pries remain almost 4 percent higher year-over-year

Row product benchmark prices are approximately 4 percent lower year-over-year
Ask a REALTOR®...
Calgary's market is dynamic and ever-changing; while one segment experiences slipping benchmark prices, another may see no losses or even slight gains, for example.
Therefore, if you're in the market to buy and / or sell property in Calgary, it's best you seek the advice of an experienced REALTOR® who has intimate knowledge of market conditions and can provide you with unparalleled service and advice throughout your transaction.
More Market Updates
See our Complete Calgary Real Estate Market Updates for month-to-month sales statistics, trends and analyses all sourced from the CREB® today!
Questions about Calgary Real Estate?

As a top-producing REMAX Agent in Canada (2013, 2014, 2015h) and REALTOR® in Calgary, I guarantee to provide you with only the best service and advice the industry has to offer while discerning all your real estate needs.
Call me anytime at 403-370-4180 or message me below for a quick response. I am looking forward to helping you accomplish your real estate plans! 

[gravityform id="35" title="false" description="false"]