Calgary Real Estate Market Update September 2018
– Market continues along in buyers' territory –
As the economic climate in Calgary continues to putter along with no real recovery, home sales activity dropped by 13 percent year-over-year and remains well below long-term averages. What's happening on Calgary's housing market in September 2018 is comparable to that in our real estate market update for August of 2018.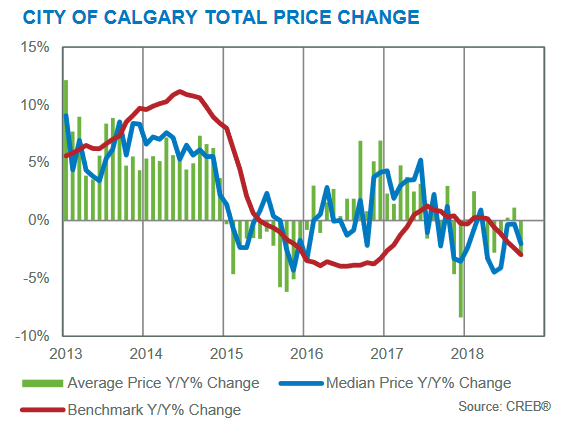 There was a pullback for sales across the board, most notably in the detached, a segment which to date hasn't seen such dramatic effects of the hurting economy when compared to others – like the apartment sector, for example.
Unemployment levels continue to hammer Calgary's economy, with levels rising above eight percent once again in September 2018. This has shaken consumer confidence in the real estate market, especially when combined with higher lending rates recently introduced by the federal government.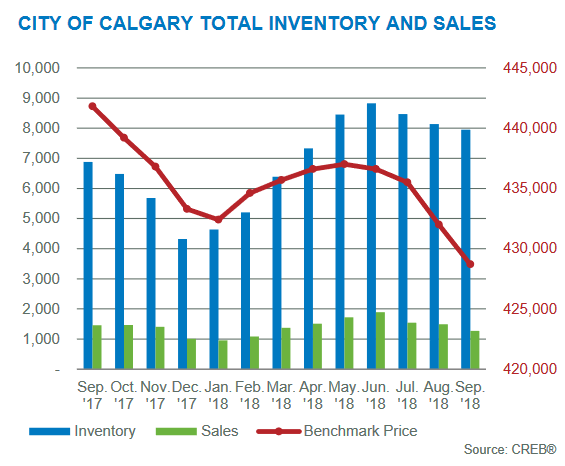 Supply levels also remain high, resulting in price declines as a result of high inventories. While many buyers want to take advantage of current market conditions, some have trouble selling their current home, preventing them from making a move elsewhere.
Previous Market Updates:
September 2018 Real Estate Market Facts & Statistics
1,273 total units sold, 13 percent below last year and far below 10-year averages seen for the city
6.25 months of supply, with 7,941 total inventory units
$428,700 unadjusted city-wide benchmark price, 1 percent lower than last month and 3 percent lower versus September 2017
Attached Homes
2,814 total attached home sales year-to-date, a 15 percent drop year-over-year and 14 percent lower compared to the 10-year average
Oversupply of row and semi-detached homes continues to weigh in on prices in all segments of the city except for the North East, East and City Centre
Semi-detached benchmark prices remain slightly above last year's
$298,667 average row benchmark price year-to-date, about 2 percent lower than in September of 2017 and 9 percent lower than previous highs.
Despite row benchmark price pullback, prices remain relatively similar in the South East, North West and City Centre districts
Detached Homes
7,945 total sales year-to-date, about 20 percent lower the 10-year average
Sales in all price ranges except below $300,000 eased; homes priced below 300k saw a modest gain
5.5 months of supply, continuing to weigh in on benchmark prices in all quadrants
$493,100 detached benchmark price, 0.8 percent lower than the previous month and 3 percent lower on a year-over-year basis
Benchmark prices in the West and City Centre districts remain above on a year-to-date basis when compared with the same time frame in 2017
Apartments
2,104 total apartment sales year-to-date, more than 20 percent below 10-year averages
For the 4th consecutive month, new listings trended down compared to the same time frame in 2017. This has helped to reduce drastically elevated supply
Apartment benchmark prices dropped 0.4 percent versus last month and 2.7 percent year-over-year in September
Hire a REALTOR®
When making a move in today's residential market, it's important you get expert advice on the type of product, community and regional sales your interest in.

Seeking the help of an experienced REALTOR®, one who knows the ins and outs for those three things mentioned above, is critical to being 100 percent satisfied with your purchase.

Make sure you do your due diligence when hiring an agent. Take your time to find one that's right for the job. Also see our Calgary REALTOR® Interview Guide for tips on how to make that happen!

As a highly experienced REMAX professional and REALTOR® in Calgary with nearly 15 years as a real estate agent, I would love an opportunity to interview and explain what you have to gain when using me as your agent. Call me anytime or send a form below and I'll be happy to get started!
Calgary Housing Market Updates
Hold on! Before you go, check out the rest of our Calgary Real Estate Market Updates for every month since 2012 and see for yourself long-term trends of our local residential market.
Questions about Calgary Real Estate?

Don't settle for anything less than the best and contact me today! As an experienced REALTOR® in Calgary, I will guide you step-by-step through your next transaction while making sure all the information you need to make the best decisions is provided in a service-focused and time-oriented manner!
Call me anytime at 403-370-4180 or send a message below for a quick, if not immediate response. I am looking forward to helping you accomplish your real estate plans!